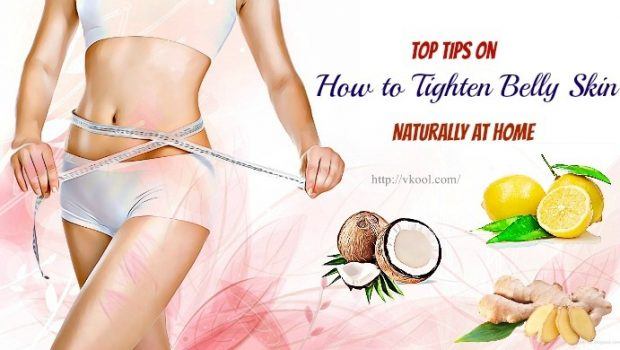 No one can underestimate the role of beauty care in daily life. Especially, in the modern time, it is important for people to learn how to treat their whole body in a proper way. Not only the hair, teeth or hands need to receive the attention but other parts of the body, which often get hidden under the clothes also deserve to be taken care of.  As the result of the new beauty concept, the belly skin which had been forgotten for ages becomes a concern of a lot of people, especially those who just lose weight or give birth. There are various methods suggested for people who want to know how to tighten belly skin. While the surgical skin tightening is available and time-saving, many people still prefer natural ways which are risk-free and money- saving. It will be a surprise to know that most of the non- surgical methods are available in your home.  Therefore, if you care about this topic, don't ignore this article because VKool.com is going to show you how to tighten belly skin naturally at home through useful yet simple following methods.
Top 21 Tips On How To Tighten Belly Skin Naturally At Home
I. Protect Belly Skin
It is familiar for people to put sunscreen on the face, the hands or legs. Not many people are aware of the fact that belly skin is also vulnerable to the sun sight. When you wear crop-top or bikini for swimming and sun bathing, your belly skin will get exposed directly to the dangerous sun light. The rays will dry out your skin and damage it heavily. Therefore, to protect your belly skin, don't forget to wear sunscreen whenever you get out of your home. It is better to limit the time your belly skin exposed to the sun directly like sun bathing.  Swimming in chlorinated water also raises the risk of cell damage. If it is your hobby, just remember to take a shower afterward and use moisturizer on your skin. Those products with vitamins or aloe-vera are highly recommended. Before concerning how to tighten belly skin, you need to make sure that this area is protected well from the hazardous external factors, for instance, the sun light.
II. Avoid Losing Weight Quickly
Nowadays, many people, especially women, want to lose weight for a skinny body. They apply some fast fat loss methods that help them cut off weights very quickly. However, our body is not a machine to adapt immediately to that dramatic change. Losing weight in such ways will lead to the loose belly skin, a tough problem that requires time to deal with. Therefore, it is advised that you should avoid losing weight quickly. Let give your body a little of time to adjust to the change. A gradual loss is much better for your health than the super- fast weight loss is. It is pointless to save time from losing weight and then spend that amount of time on learning how to tighten belly skin, isn't it? For your best benefit, be patient with weight issues and stay away from all types of fast fat loss method.
See more: Skin Tightening Face Pack
III. Avoid Harsh Soaps
Using harsh soaps is clearly on the not-to-do list if you want to tighten your belly skin. The reason is that, for the belly skin to get its proper size back, it requires being hydrated and supple. The sulfate found in harsh soaps, in contrast, will dehydrate or dry out the skin. Instead, soaps that are made from natural herbs can be a good choice for bathing and cleansing. If you don't know how to tighten the belly skin by keeping it well hydrated, at least avoid doing anything that makes it drier.
Learn more: Natural Skin Tightening
IV. Use Egg Whites
Last but not least, egg whites are also a wise choice for anyone learning how to tighten belly skin. These egg whites are a rich source of nutrients and protein that revitalize belly skin and make it tighter and stronger. You will need to create a mix by whipping up two egg whites. Use the mix to cover your tummy until the egg whites get dried out. The skin will be smoother and softer under the effects of this amazing solution. Don't forget to wash your body carefully with lukewarm water afterward. Now, you know how to tighten belly skin with the egg whites, you can try it at home right now to see whether this tip is effective or not. And if you are interested in the egg whites' benefits, you can find more tips by clicking at: Egg White Face Mask
V. Use Salt
If you do not sure how to tighten belly skin, using salt may be an effective method that you can try at home, especially the sea salt scrubs. It is proved that these sea salt scrubs can improve the blood supply and offer an abundant source of good minerals. They also help clear out impurities and toxins from the skin, which result in the remodeling of collagen. There are various ways using sea salt to tighten belly skin. You can put 2 teaspoons of sea salt in the bathing water or rub it directly into the skin when taking a shower. On another way, you can roast 500 gr of sea salt before putting it in a cloth. Place it on your belly skin and massage this area when the salt in cloth is still hot. Apply this method twice a week for the best result. There are several interesting tips that show you how to tighten belly skin on the rest of the article, so don't miss them.

VI. Ginger
As a well-known remedy for flu treatment, ginger is also believed to work effectively in tightening the belly skin. Its heating property is supposed to reduce belly fat [1]. The two following method can show you in detail how to tighten belly skin with ginger.
Method 1:
Put 500 gr of salt and 500 gram of ginger together.
Wash ginger carefully and don't remove its skin.
Blend ginger smoothly before roasting it with salt.
Place the mixture of ginger and salt in a bag and gently massage the mixture around the belly skin until it is cool.
Method 2:
Prepare a kilogram of ginger and a liter of wine.
Wash ginger carefully and retain its skin.
Blend the ginger and mix it with wine in a clean glass bottle for about 2-3 months.
Apply this mixture on the belly skin and massage every day.
Now, you have learned how to tighten belly skin with ginger. Choose a method and check how effective it is on your own. The effectiveness of ginger on skin can also be proved based on its ability to treat acnes. If you want to know more about this benefit of ginger, click at: Ginger for acne to get interesting information.
VII. Supply More Collagen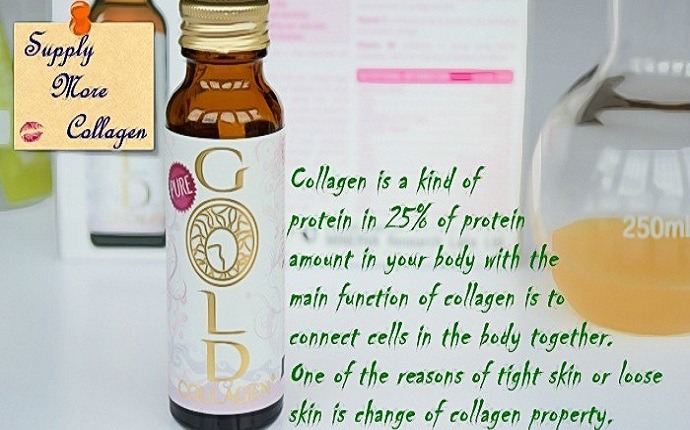 You may know or not, the lack of collagen is one of these factors leading to loose skin. Collagen is a type of protein that accounts for 25% of the total protein amount in your body. Its main function is to link cells in our body together and to create elasticity. After giving birth, many women experience the loose skin due to the inefficiency of collagen. Therefore, it is important to increase the amount of collagen in the body if you want to tighten belly skin. The sources of collagen come from many types of food. Soy products like soy milk or tofu, omega-3 rich foods like salmon or tuna, and also the vitamin C-rich food, for example, carrots, asparagus, tomatoes, spinach so on should be put on your daily diet as a way to supply more collagen. By applying this tip, you can see clearly how to tighten belly skin naturally with your daily meals.
Read more: How To Increase Collagen
VIII. Add Zinc
If you are still wondering about how to tighten belly skin, let give zinc a try. It is one of the most effective remedies to help your belly skin shrink back to the proper size. Zinc is believed to be able to remove the stretch marks, maintain stretch skin, tighten the loose skin, and renew the skin cell. You can find this amazing element in peanuts, oysters, pumpkin seeds, wheat germ, sesame, and other types of foods. Just adding zinc-rich food in your daily meals and you can shape your belly skin without the involvement of surgical methods.
IX. Lemon
As mentioned before, the lack of collagen will lead to the loose belly skin and the vitamin C- rich food can be a perfect solution because this type of vitamin can enhance the production of collagen and increase the elasticity of the skin. If your belly skin gets loose after the pregnancy time, lemon juice, a famous source of vitamin C, will be able to erase any stretch marks appearing on the pregnancy. There are three ways that using lemon to tighten belly skin.
Method 1:
Cut lemons into several thin slices
Place it on the skin for half an hour
Method 2:
Get some lemons and squeeze them.
Use the lemon juice to massage in the clockwise direction and then vice versa.
Practice this method at least three times each week for the best result.
Method 3:
All you need to do is drinking lemon juice every day to decrease the fat in the belly and brighten the skin.
You can also find other interesting recipes for skin with lemon in this article: Lemon Recipes For Hair And Skin
Want More Content Like This In Your Inbox?
Join The Discussion