Updates: 05/12/2023
Do you love snacks? How many snacks do you know and how do you make it? Nowadays, snacks are popular in supermarkets, you can buy them easily. Many people misunderstand that snacks are fast foods and these foods are not good for their health. In fact, there are various healthy types of snacks you can choose in food stores. You can also make some snacks at home. The following writing will introduce 27 healthy snack ideas for kids and adults, and their benefits to your health. The article includes 2 main parts. In the first section, I would like to recommend healthy snacks for you to select. In the next part, I will show you low-carb snacks which are delicious, easy-to-cook and help you keep being fit. Do continue reading to be a smart eater and enjoy these snacks.

I. Healthy Snack Ideas For Kids
1. Cheese & Crackers 
Cheese is high in calcium so this food is good for the kid's growth. As cheese is versatile, so it can be combined with plenty of other ingredients that kids love. The most favorite form of cheese is string cheese. And cheese is often be eaten with crackers and this dish is called "cheese food".
2. Trail Mix
You can make b pre-assembled bags to make your own trail mix at home, instead of buying it at the store. Actually, trail mix is a favorite snack for kids. It is also a healthy snack with a good source of granola and fiber and it allows kids to control sugar and salt contents. Beside granola, you can add some other healthy and tasty ingredients to your trail mix like nuts, dried fruits, peanuts, coconut flakes, hulled sunflower seeds or pumpkin seeds.
3. Mini-Pizzas
All kids love pizza. For a quick homemade snack, toast up a muffin, add some tomato sauce and mozzarella cheese. To make tomato sauce, use seasoning, tomato paste, oregano and garlic. Whip up your mini-pizzas to make the cake become more attractive to kids. Let your kids choose their own toppings with muffins, veggies, mushrooms or bell peppers. You can also add pepperoni to your mini-pizzas but considered amounts of nitrates present in pepperoni because too much nitrates are not really good for health.
4. Applesauce 
Apple is rich in fiber and vitamins. Instead of feeding your kids the whole apple, you can make applesauce as a healthy snack and make them love this fruit more. Again, less sugar is good for toddlers. Mushy applesauce sounds bland and boring to kids. So, you can mix applesauce up with nuts, raisins and cinnamon. Stir them well and make this snack become palatable for your kids. However, be careful in consuming cinnamon. Do not add too much this spice to kid's foods and snacks as it can lower blood sugar while babies and toddlers's blood sugar is normally lower than that of adults. Discover: Benefits Of Cinnamon
5. Smoothies
Smoothies are good for everyone, including kids. Do not buy smoothies at the food stores for kids as these smoothies may include too much sugar. Instead, make your own smoothies at home with yogurt, low fat milk and fresh fruits like strawberries, bananas. These ingredients are rich in protein, calcium, and antioxidants. Additionally, smoothies are delicious and look so cool. Your kids will prefer eating smoothies to consuming boring vegetables or whole fruits. Read on: Benefits Of Smoothies
To make a lot of other healthy snack recipes for kids & adults, you should read the Ultimate Healthy Snack List book.
6. Beetroot & Sesame Roti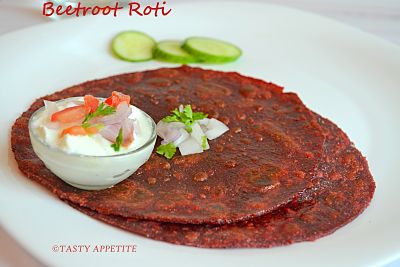 Beetroot & Sesame Roti is a tasty breakfast for kids. Prepare ¼ cup of grated beetroot, 1 tablespoon of sesame seeds, ½ cup of whole wheat floor, 2 tablespoons of cooking oil, ½ tablespoons of chili powder, and ¼ tablespoons of turmeric powder. Combine all these ingredients above in a large and deep bowl and knead them into soft dough, add a little bit of water to make a thick paste. Divide this dough into 8 portions, then roll each portion into a 4-inch circle, using the whole wheat flour to roll. Next, heat a tava and cook roti with cooking oil, until the roti turns golden from its sides. Let these rotis cool completely and taste.
II. Healthy Snack Ideas For Adults
1. Vitatops
Vitatop is a new 100-calorie snack hit the market in 2023. This is a cool snack because it helps people satisfy their cravings for sweet foods. Exactly, each muffin top has 100 calories, 5g of fiber, 4g of protein and the flavors used in this snack are fat-free.
2. Walnut Brie
You can make Brie with dried cranberries, nuts, add wheat crackers. In this snack, gooey brie helps you satisfy cravings for creams. Dried cranberries provide you with antioxidants, walnuts are a nutty crunch and they contribute healthy fats.
3. Baked Potato Fries
This snack is high in Vitamin A. People prefer baked sweet potatoes to baked potatoes. You can make this snack at home. The oven needs to be set to 425 degree F. Next, cut 4 sweet potatoes. Each wedge is about 1 inch. Then, drop them into a roasting large pan. Brush with 2 tablespoons of olive oil, 1 and a half teaspoon of chili powder, 1 teaspoon of salt. Keep cooking for 20 minutes. Next remove the pan from the oven and sprinkle a little of salt above the potatoes and enjoy your snack.
4. Kale Chips
Kale Chips are an ideal late afternoon snack. This is a good source of different Vitamins, including Vitamin A, Vitamin C and Vitamin K. You can make this snack at home. The steps are so simple. You just spend about 10 minutes to cook the snack in the kitchen. The recipe is same to traditional chips. Besides, you add some kale leaves, 1 teaspoon of olive oil and a little salt. Cook it at 350 degrees F until they look crispy.
5. Oatmeal Snack
Oatmeal Snack is a good choice for on-the-go breakfasts. This snack provides you enough calories to start a working day and get energized until the noon.
6. Orange Muffins
With orange, your fruity muffins will be a yummy snack or healthy breakfast. Oranges are high in Vitamin C and antioxidants. Muffins contribute a large amount of protein. Try cooking this snack once and you will love it.
To make a lot of other healthy snack recipes for kids & adults, you should read the Ultimate Healthy Snack List book.
7. Carrots, Peanut And Dipping Sauce
This is an interesting recipe. If you have never heard about this snack in your life, now learn to make it. The ingredients required includes jelly habit, peanut butter, sesame dip and high-quality carrots. Firstly, break the jelly habit and peanut butter in a set (under the level 12). Mix the sauce. Next, cut carrots into your favorite shapes. Now, enjoy fresh carrots with this cook dipping sauce. This is one of healthy snack ideas for kids. You just take some minutes to make this recipe. The snack is really good to eat as a late afternoon snack.
8. Strawberry Crunch
This is a delicious snack. You can make it at home. Firstly, spread a tablespoon of butter (cashew butter, or Triscuits, or peanut butter) on the slice of Ryvita crunch. Next, drizzle with a half of tablespoon honey, top with some sliced strawberries and enjoy your home-made strawberry crunch. In this recipe, butter is totally good for anyone, even fat people because they are full of healthy fats.
9. Antipasto Plate
This is one of great healthy snack ideas that provides you with 1,000 mg of calcium per day. The needed ingredients are slices of ham or prosciutto, string cheese, grapes, olives, bell peppers (roasted) and balsamic vinegar. Firstly, roll prosciutto around a string cheese. Add a few grapes, olives and bell peppers, plus balsamic vinegar to spice up your appetite.
10. Popcorn
Popcorn has lots calories, so it helps to fill your stomach up. There are different types of popcorn. Spicy popcorn or DIY kettle corn are healthy snack ideas for dietitians. This food is an amazing source of antioxidants and fiber.
11. Roasted Almonds
Almonds are great nuts and most of the people like this nut. Simply, you can roast almonds (you can add spices and oil). Almonds are considered a powerful food that reduces the risk of some health problems such as lowering oxidative stress, reducing LDL cholesterol, lowering the risk of heart attacks. Besides, the skin of almonds is full of antioxidants which boost your immune system as well.
12. Chocolate And Nuts
Chocolate, especially dark chocolate contains antioxidants, including flavonoids and poly phenols which can prevent you from high cholesterol levels. Besides, nuts include a large amount of healthy fats. By mixing nuts and chocolate together, you can eat more, instead of eating just chocolate or nuts.
To make a lot of other healthy snack recipes for kids & adults, you should read the Ultimate Healthy Snack List book.
13. Banana-Oatmeal-Walnut Cakes
Banana, oatmeal and walnut are 3 great healthy ingredients that can help you have various healthy snack ideas. Basically, you can make some cookies for your breakfasts. They are a surprising source of grains, potassium and good fats. You can add 2 mashed bananas, 1 cup of uncooked oats into a large bowl, next fold in a small cup of crushed walnuts. Then, put scoops on the baking sheet. Set time to bake in 300-degree oven for 20 minutes.
14. Chia Pudding
The main ingredients of this pudding are Chia seeds, unsweetened almond (or coconut milk), vanilla and ground cinnamon. These seeds contain fiber and Omega-3s which are good for heart health. To make this recipe, you place 2 cups of coconut milk or unsweetened almond, mix a half of Chia seeds, 1 teaspoon of vanilla and 1 teaspoon of ground cinnamon into a large bowl. Cover the bowl and refrigerate it for 4 hours, stirring occasionally until it is pudding-like.
15. Bagels And Peanut Butters
Low-fat does not mean low-calorie. This is a high calorie snack but not high fat one. The label can make you have a sense of misunderstanding, and avoid the over-eating. So, enjoy bagels and peanut butters in moderation and you won't need to worry about your fat. Besides, why don't you buy peanut butter in the fat-reducing versions?
16. Feta-Walnut Dip
This is one of healthy snack ideas for people who love yogurt and want to add yogurt in their recipes. To make this snack, place two cups of yogurt in a sieve. Put them in the fridge overnight. Next, spoon that thickened yogurt in a bowl. Add 3 ounces of Feta cheese, 2 minced garlic, 2 tablespoons of toasted walnuts, a little of ground pepper and a small teaspoon of hot sauce. Mix all of them well. Cover the bowl into the plastic wrap and refrigerate it for 2 hours. You can add some cherry tomatoes, baby carrots and wheat pita enjoy this great snack. This dish provides you a large amount of protein, monounsaturated fat and calcium. Just with 8 ounces of yogurt per day, it's a good way to help you boost your digestive system, supply your body with Vitamin 12, beat your depression and enhance beauty and fitness.
17. Avocado
Avocado adds healthful fats to your body. It also contains a great source of probiotics and protein. So, enjoy avocado in different ways you want.  You can use avocados to make rice cakes, sprinkle a little paprika and black pepper and enjoy this snack.
18. Cinnamon, Nuts And Oatmeal
Oatmeal is high in protein, fiber and it is a perfect snack. You can mix 1 packet of plain and instant oatmeal with cinnamon and 6 almonds to spice your appetite.
19. Parmesan-Pita Crisps
To make this recipe, first sprinkle two tablespoons of Parmesan over a 4-inch wheat pita. Next, dust the pita with a small teaspoon of dried oregano and broil them until the cheese browns. Cut it into quarters. This is a one of really healthy snack ideas I recommend it to you. Parmesan-pita crisps help you have balance of fiber, fat and protein. Try cooking it once!
To make a lot of other healthy snack recipes for kids & adults, you should read the Ultimate Healthy Snack List book.
III. Low-Carb Snacks
If you love snacks and worry about eating snacks with high calories you can choose some low-carb snacks. In this part, I am going to introduce really low-carb snacks including most fruits and vegetables which help you satisfy your cravings for snacks.
1. Fruity Jelly Cubes
You can use natural juice and guaranteed gelatin to make jelly cubes for refreshing your mood after a long working day. Especially, kids love this wonderful snack so much, so make healthy fruity jelly cubes to offer them.
2. Fresh Fruit
Most fruits are low-carb foods that you can enjoy them all day without worrying about getting fat or increase cholesterol levels. Eat fresh fruits in season. They are high in fiber and help you remain your beauty and your young skin. You can eat a whole fruit or make it become delicious juices. Remember that do not eat many fruits when you are hungry.
3. Pistachios And Pineapple
Pistachios and pineapple are high in antioxidants. Making this snack is so easy. Just combine about a cup of dried pineapple pieces with some pistachio nuts and enjoy this snack. Besides, you can use other dried fruits and nuts to create your own snacks such as peanuts, raisins, almonds, apricots, hazelnuts and cherries.
4. Olives
Olives contribute big flavor, healthy fats, but they are low in calories (1 serving of 5 Kalamata olives includes 25 calories). This fruit can help you get satisfied with your salty cravings. There are different types of olive products at supermarkets. You can choose some and eat them as a fast food or bring it home and mix it in some other dishes. I've shown you various healthy snack ideas that satisfy your snack cravings. They are only recommended ideas. Besides, you can create your own snack based on these suggestions. There are many healthy snack ideas for kids and dietitians, yet I would like to introduce all of them in detail in next writings. If you find this article helpful, share these healthy snack ideas to your friends!
To make a lot of other healthy snack recipes for kids & adults, you should read the Ultimate Healthy Snack List book.
Want More Content Like This In Your Inbox?
Join The Discussion