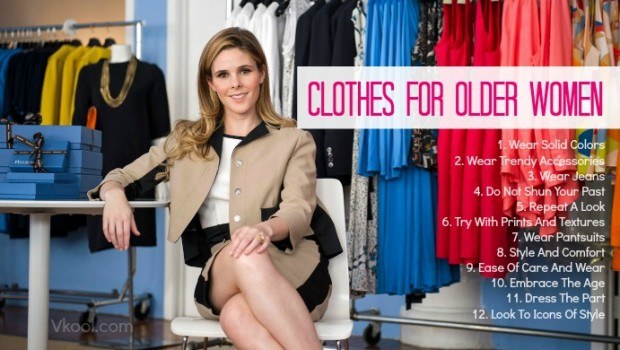 Women over 60 are still reinventing the world in many different ways. They are often working with new careers, they are taking care of family members and they are creating a new concept of "older women". And fashion is also a part that relates to this reinvention.
Just as you are at a certain age that does not mean that you cannot be a stylish woman. Many people think that everybody over the age of 60 should wear Christmas sweaters or horrible mommy jeans. This is wrong at all. As you know that there are many trends for the younger generation, but if you have crossed the age of 60 and still want to be stylish, here are some tips on how to choose clothes for older women, that you should know.
Best Clothes For Older Women- 12 Best Tips:
Senior as well as retirement living often refers to a change in fashion requirements. With an old woman, there are some factors that may affect her style or cause revisions in her own wardrobe.
Ÿ Health issues: Reactions to medications and changes in energy levels can make you find difficult to dress as well as perform personal activities. Besides, older women also stay warm harder, so they often tend to look for warmer clothes.
Ÿ Mobility issues: Medical issues or muscle weakness can make your dressing complicated, if not impossible, to operate buttons and bra closures. These women should wear clothes that can get on and get off easily from a seated position.
Ÿ Social concerns: A woman often wants to change her wardrobe to more closely the styles that are worn by a social group.
It is really important for a woman to maintain her independence and that her personal requirements are being met her clothes, even if she is not individually choosing the fashion items.
In the article today, I would like to reveal some of the best tips to help you choose the best clothes for older women so you should keep your head on the following interesting lifestyle facts and interesting fashion tips for older women. The tips are:
1. Wear Solid Colors
This is the first out of the more important tips to choose best clothes for older women that I would like to introduce in this entire article and want you and my other readers to learn and make use for good!
Color is one of the most important factors of clothes for older women. Have you ever looked at famous women over 60 like Diane Sawyer, Susan Sarandon, and you will see that they tend to focus more on dressing solid colors. So, if you want to wear a pattern, remember to keep it consistent and simple.
The easiest way for you to add color to your own wardrobe, if your skin tone is fairer, start with your eyes' color. Adding sections in this color will be the best way to give you color into your wardrobe. And if your skin tone is darker, you are so lucky, as you may be able to wear most of any bright color.
Wearing solid colors is actually an easy way to help you look fashionable easily.
2. Wear Trendy Accessories
Older women always get wrong in the accessories department. You do not wear your whole jewelry box, but just focus on one standout piece at a certain time. However, you should not also be afraid when wearing trendy accessories. Apart from basic clothes, you can add some trendy accessories that do not look like you are trying to look younger. Some stores such as Forever 21, Zara, H&M, etc. are great places where you can find accessories without spending too much.
This is in fact one of the most important tips to help you choose best clothes for older women that you should learn and make use to look stylish.

3. Wear Jeans
Not hootchie mama denim jeans, I am taking about a pair of trouser cut, wide leg or straight jeans that look really fabulous on older women. In case that you are a little larger on the bottom, you can consider trying a boot cut jean or trouser cut. The flare will draw all attention away from you're your section and even make you slightly taller, which is quite important because you get older. You should also find jeans with at least 2% Lycra content, which will help your jeans fit your body and control any problem places. Some brands you can consider trying such as Levi, UNIQLO and Banana Republic, etc.And in case that you are a little smaller on the bottom, you are a great candidate for skinny jeans or straight leg jeans. For those who are a bit more of tummy, wear skinny jeans having a little higher risethat will help you sit more comfortably on your waist.
Addition to this, in case that you get gray hair, your jeans with the dark navy color will really have effect in setting off this gray in your hair. Pair your jeans along with a bright colored tee or a fitted sweater. All that is good and fashionable, but you have to remember to avoid dressing denim from head to toe.
Continue reading this entire article to discover other important tips to choose clothes for older women!
4. Do Not Shun Your Past
Although you are a few years older, you are still you. So, if you think that you need redo your own wardrobe, please to think again. If you love the way you look in blue, if your wardrobe gets a tailored pair of slacks, let stick with it. Do you love strapless dress? Let wear it, but you should match it with a cropped blazer. You should be aware of what works for you, so do not be affected by other people' opinions of something you should wear or not. You can recall your greatest fashionista and find a mature way of imitating them.
However, if your styles are old, outdated and unflattering, you should consider getting rid of them. A good tip for older women is to not wear clothes that are over 10 years old, but classic rule such as crisp blouses, nice-fitting blue jean and sleek skirts.
In fact, this is also among the most important tips that help in choosing best clothes for older women so that you should follow this tip to look stylish all the time.
5. Repeat A Look
When it comes to create a signature style, repeating a look is something encouraged. Once you found a style that suits you and makes you look great in, go ahead and purchase one in every color. A designer Carolina Herrera is the best example for this instance. She is a successful designer, who creates some beautiful and elegant clothes on the red carpet. She often appears with the uniform including crisp blouse, drop earrings and A-line skirt almost every time. Are we bored with her regular image? No way! She looks fabulous on them, and you do too in your signature style. If it is a style of shirt, a shape of dress or a particular color, if it suits you, choose it, all the time.
This is in brief one of the most important tips on how to choose best clothes for older women so that people should not look down yet try to follow this tip and enjoy a fashionable look.
6. Try With Prints And Textures
As you have reached a certain age, you cannot go out with cropped shirts or miniskirts; however, you can show your personality in florals, animal prints and bold textures. And Vogue editor-in-chief Anna Wintour is the best example. You can give a statement in your own signature look like Anna. Find out something suits your figure best. Anna loves sheath dresses, but if you prefer A-line skirts, you can choose them as your signature style. Once you have narrowed down your clothes' shape, anything will go when it comes to the prints. Another way for you to make a statement is to wear accessories.Bold sunglasses, watches and necklaces will make you look elegant with a classic ensemble.
This is actually also one out of the most important tips to help in wearing clothes for older women that a lot of people in the world have been following to choose their signature style.
7. Wear Pantsuits
Another out of the most important tips on how to wear clothes for older women that I would like to reveal in this entire article and want you and my other readers to learn and remember that wearing pantsuits can be a useful way for older women to look stylish.
I guess that you used to envy how nice famous people looked in their pantsuits. And perhaps you still envy with the powerful presences their ensembles conveyed, so why do not you imitate their style? A pantsuit works for casual situation or formal parties, for day or night, for the office or the church, and more importantly, they always make you look chic.
The pantsuit is the LBD (Little black dress) of women over 60, partly as it will take a definite degree of sophistication when pulling it off. Find a pantsuit that fits both your figure and personal style. If necessary, you can get it tailored, and then everywhere you go, you will always get the best outfit.
8. Style And Comfort
This is also one of the most important tips that people should learn and follow for good, especially if you are trying to purchase clothes for older women.
Consider your personal style as maybe you will want to wear the same colors and styles that you have worn for many years. If you loved classic styles when you are older, you will still want to wear these styles. However, as you get older, your overall physical figure often shrinks. And of course, you need shorter garments and smaller sizes. Oversized clothes can bring the comfort to you, but the extra fabric might also cause the wearer to fall. Consider choosing clothes that fits you well. Moreover, keep away from seams and closures at the back of your legs or at the back of your top that will become uneasy during prolonged sitting.
9. Ease Of Care And Wear
In order to purchase best clothes for older women, you have to pay attention to some factors, and ease of care and wear is one out of them. Tiny buttons or small zippers are difficult for some old women to wear. You should look for wrap-around and pull-on styles of pants and tops. Front-closure bras might be easier for women to wear than ones that you have to twist your arms to reach around your back.
In addition, you should also look for fabrics, which can be dried and machine-washed at either home or care place. Avoid fragile fabrics that need a special care like hang-drying, hand-washing or ironing. Fabrics should be soft against a sensitive skin.
In fact, this is among the most important tips on how to buy best clothes for older women so that you should remember and follow this tip.
If you are trying to find best clothes for older women, you should continue reading this entire writing to know other tips. They will help you in choosing the best outfits for your age group.
10. Embrace The Age
Another one on the list of the most important tips that I would like to reveal in this entire article today and want you and my other readers to learn and consider following this tip if you want to choose best clothes for older women.
There is a popular show on TV called "What not to wear" where fashion experts will do a makeover of a participant who has horrible personal style. One of the interesting facts occurring often in the women who participate in this show is that they try to dress younger than the way they actually are. However, this is really a mistake.
When a woman tries to dress in styles that may be more proper for somebody much younger, she paradoxically makes herself look much older. In case that you are wearing a short skirt or gaudy fashion, this means that you are making yourself look older. If you dressage properly, it will have effect in making you look younger. This is because people will not be distracted by your age-inappropriate clothes; instead, they can appreciate how great you are in, or what a healthy skin and what a nice hairstyle you have.
What you really need is to know how to deal with your aging body, how to express your personality, and how to apply the dressing's rules well to select the right colors, cuts and accessories for your body.
11. Dress The Part
There is a saying "dress for the job you want". This means that if you dress in a way that conveys your respect and credibility in your workplace, you will be a choice for promotion. But selecting classic styles does not mean that you just have to wear conservatively.
As far as clothes for older women, there is also a related meaning: dress for the role in your life that you would like to have. If you like travelling, choose complementary pieces or accessories from other countries you have ever visited. If you love outdoor activities and sports, find a way for your own wardrobe to show these interests. It does not mean that all of your fashion options have to be sports all the time, but it is possible to wear something sporty while still being fashionable.
This is also a great one on the list of the most important tips that help you choose the best clothes for older women so that you should not look down but learn and consider following this tip as soon as possible
12. Look To Icons Of Style
This is the last but very important out of the best tips on how to choose best clothes for older women that I would like to reveal in this article and want you and my other readers to follow it if you want to look fashionable.
One of the most important things about being older women today is that we have more fashion models than before. Women over 60 are too often made invisible by the culture and the media, but there are some of prominent women over 60 who are real fashion icons. You do not forget that celebrities are regular asked about how to wear outfits, not as their clothes suit them, but as their advertisers would like to make a statement. Therefore, enjoy watching the celebrities, but, remember to evaluate their clothes by the rules of dressing.
Finally, there are some advice on best clothes for older women including what to wear and what not to wear:
ŸNever wear something has beige, pale blue and pale green color that will make you fade into the background.
ŸHalf elasticated or elasticated waistbands are a benefit for women with less than thin figures, but they have not to be visible.
Ÿ Jogging bottoms are good at home or gym, unless you are young or you get a well-built body, do not dress them out. Instead, casual trousers and jeans would be better option for you.
Ÿ Leggings are suggested almost universally, as long as you cover your bum, especially leggings with a long tunic or with a skirt look great.
ŸAlthough you have worn a size for years, take your measurements again to ensure that you will shop for sizes that fit you perfectly.
Ÿ Shop for items that can flatter places you would like to conceal.
Ÿ Shop for clothing items that can show off whatever are your best features.
Ÿ Unless you are really tall and you also have a narrow waist, keep away from large, contracting and decorative belts.
Ÿ In case that your hips are wide, make sure that your outfit's sleeves will not end at your hips. They will be shorter or longer.
Many of the most stylish people are women over 60. They are often more stylish than anyone of us. The reason for that is that they have better self-confidence along with a stronger sense of self value- they know how to wear for who they are. If you want to be like them, read these above tips to find the best style for yourself. Another thing that I want you and my other readers to do after reading this entire article about best clothes for older women and how to look stylish when you are over 60 is to spend time reading a recommended article that reveals main fashion tips for women – the Top 18 Fashion Tips For Women That Lead A New Trend! article. This is actually an interesting article for women that people can follow with ease. These fashion tips have already supported many women in the world effectively in helping them look fashionable so that readers of VKool should read this suggested article and follow these tips for good. In fact, these tips and techniques are very simple to follow and apply at home so that women should not miss them yet making use of this recommended article as soon as possible!
This is the list of 12 most important tips on how to choose and wear best clothes for older women that everyone who is over 60 and wants to know more fashion tips from experts should read and remember to follow for good. In fact, these tips have been given by fashionistas so you should not worry when following them.
After reading this list of best clothes for older women and learn how to become a stylish women when you are over 60, if you feel this list is very good for your style and condition and can also help other women you know who are old and are also trying to find best clothes, you should share this list with them and encourage them to follow at least one tip. One more thing, as an author of VKool, I want to know your experiences about this topic, do not to share with others your experiences in the comment section below.
Related articles about tips to help you dress well that you may be interested in:
How To Become AStylist – Top 15 Tips And Tricks Revealed!
How To Dress Slimmer, Taller And Avoid Looking Fat
How To Find Your Fashion Style – Top 11 Cute Tips Revealed!
28 Fashion Tips For Men To Appear More Impressively!
Best Dresses For Body Types – Top 8 Tips Revealed From
Want More Content Like This In Your Inbox?
Join The Discussion