Monitor your sodium intake is a good thing you can do for the health. Consuming too much of salt is not good for the health because this can lead to harmful effects such as puffy fingers, a bloated belly and swollen feet, and even cause more serious health issues such as fluid retention and high blood pressure. Thus, a good and proper balance of salt is very important for our health. The daily dose of salt required for an individual is as little as a teaspoon of sodium chloride. But, we tend to exceed more than the suggested amount because we're hooked on to restaurant food and fast food as well. Therefore, you should know about several healthy and tasty low sodium recipes that will surely keep your health under check. To know what these recipes are, continue reading this article in the line of Health on VKool.com site.
Top 12 Healthy And Tasty Low Sodium Recipes To Try Out Today
1. Low Sodium Recipes – Chickpea Soup
This soup is savory, and hearty. During the winter months, it can also help you keep warm. So, this is one of the healthy low sodium recipes you should try at home.
You need to prepare:
Diced onion  – 1
Diced large carrot – 1
Chopped celery stalks – 2
Minced garlic cloves – 3
Grated fresh ginger -1 tablespoon
Cumin – 1 teaspoon
Gram masala – 1 teaspoon
Garlic powder – ½ teaspoon
Turmeric – ¼ teaspoon
Low-sodium vegetable broth – 4 cups
Rinsed, drained, and cooked  chickpeas – 2 ¼ cups
Fire-roasted tomatoes – 1 15oz. can
Pickled jalapeños – 1 tablespoon
Brown basmati rice – ½ cup
Full-fat coconut milk – 1 15oz. can
Optional: chopped cilantro, for garnish
Directions:
Firstly, add onion, celery carrot, and a splash of water or vegetable broth in a large pot, and sauté for five minutes.
Then, add the masalas consisting of garlic, cumin, ginger, garam masala, turmeric & garlic powder and cook for 1 minute or so.
After that, pour in the broth, tomatoes, chickpeas, and jalapeños, lower the heat, cover, and now simmer for 10 minutes.
Remove the broth mixture (2 cups) and leave it aside. Add the basmati rice afterward, cover again and now cook for a gap of 30 and 40 minutes until it softens up.
To a blender, add this reserved broth mixture while the rice cooks and process until smooth. Add back to this soup the two cups of blended broth as the rice is tender. Stir in the full-fat coconut milk and reheat the soup gently.
Take serving bowls and pour into it. If desired, you garnish with cilantro.
2. Cauliflower Rice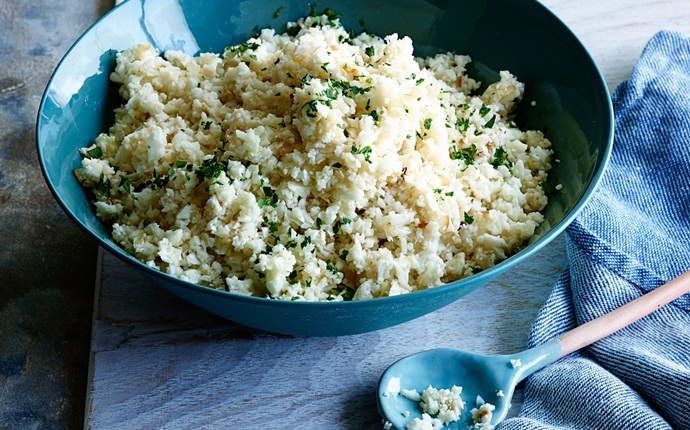 Low sodium recipes are useful for people with hypertension or for anybody trying to get a healthy heart. The tasty low sodium recipes must include this dish. This recipe is high on taste and low on sodium.
You need to prepare:
Safflower or olive oil – 1 tablespoon
Chopped yellow onion – 1
Peeled & diced carrot – 1
Minced garlic cloves – 3
Garam masala – 1 teaspoon
Ground coriander – 1 teaspoon
Dried mint – 1 teaspoon
Low –sodium vegetable broth – 2 cups
Chopped cauliflower florets – 2 cups
Quick-cooking brown rice – 1 cup
Dried small raisins or dried unsweetened currants – ¼ cup
Thawed frozen peas – 1 cup
Drained and rinsed well lentils – 1 cup
Chopped fresh parsley or cilantro – 3 tablespoons
Toasted, sliced unsalted almonds – 1/3 cup
Optional: low – fat plain yogurt – ½ cup
Directions:
At first, heat oil in 1 large shallow saucepan on medium-high.
Lightly cook the carrot, onion, garlic, coriander, garam masala, turmeric and mint for about 2 minutes until onion softens, stirring often.
Then, add cauliflower, broth, currants and rice; cover and simmer for around five minutes.
Stir in lentils and peas; cover and simmer for about five minutes until the liquid turns absorbed.
After that, stir in cilantro and almonds. To boost the taste of the dish, add 1 dollop of yogurt.
3. Low Sodium Recipes – Banana & Nut Oatmeal
This is one of the easiest low sodium recipes you should try out today. It will take only several minutes to cook.  Plus, it has a good taste. Try it right now.
You need to prepare:
Rolled oats – ½ cup
Water – 1 cup
Sliced banana – 1
Chopped walnuts – 1 tablespoon
Cinnamon – 1 teaspoon
Directions:
You need to combine oats with 1 cup of water in one small microwave-safe bowl. Then, microwave at HIGH for three minutes.
Thereafter, top with banana slices, cinnamon and walnuts. Lastly, enjoy it.
4. Barley & Avocado Salad
This is also one of the nutritious low sodium recipes and it combines the benefits of minerals, vitamins and fiber as well.
You need to prepare:
Carrot juice – 1 cup
Thyme – ½ teaspoon
Salt to taste
Cayenne – 1/8 teaspoon
Quick-cooking barley – ½ cup
Fresh lemon juice – 3 tablespoons
Olive oil – 1 tablespoon
Rinsed & drained black beans – a can (19 ounces)
Fresh diced tomatoes -1 cup
Diced avocado – ½ cup
Directions:
In a medium saucepan, blend together the carrot juice, salt, thyme, and cayenne. Boil it over medium heat and add barley. Later reduce to a simmer. Then, cover and cook about 15 minutes until the barley becomes tender.
Meanwhile, in a large bowl, whisk together oil and lemon juice. To the bowl containing lemon juice mixture, transfer barley together with any liquid remaining in that pan and toss to coat.
After that, add tomatoes & beans and toss to combine.
Add avocado and toss gently. Serve it chilled or at room temperature.
5. Low Sodium Recipes – Easy Granola
This breakfast recipe will keep you satisfied until lunch. Each serving contains 3 grams each of fiber and protein. This is also one of the tasty and healthy low sodium recipes.
You need to prepare:
Quick-cooking oatmeal – 2 cups
Mixed nuts – 1 heaped cup
Mixed seeds (poppy, sunflower, pumpkin, sesame) – ¼ cup
Unsweetened shredded coconut – ¾ cup
Ground cinnamon – 1 teaspoon
Maple syrup – 5 tablespoons
Olive oil – 3 tablespoons
Dried fruit – 1 ½ cups
Directions:
Preheat the oven to 350ºF.  On a baking sheet, you put mixed nuts, mixed seeds, oatmeal, cinnamon and coconut. Stir well and smooth out.
Later drizzle with olive oil and maple syrup; stir well. Bake for around 25-30 minutes. Take out every five minutes, stir and smooth down by using a wooden spoon. Then, put back in the oven.
Remove from the oven as granola is golden and mix in dried fruit. Let it cool and serve with yogurt or milk.
Leftover granola can be kept in an airtight container around two weeks.
6. Southern Pecan & Apple Salad
The best and healthy low sodium recipes must include this salad. Particularly, it does not skimp on flavor and provides many heart-healthy fats.
You need to prepare:
Olive oil
Butter – 2 tablespoons
Packed light brown sugar – 1/3 cup
Pecan halves – 1 cup
Orange zest – 3 teaspoons
Juice of 1 orange
Dijon mustard – 1 teaspoon
White wine vinegar – 1 tablespoon
Extra-virgin olive oil – 3 tablespoons
Freshly ground black pepper
Sea salt
Medium green or red apples – 2, cored, quartered, & thinly sliced
Belgian endive – 2 heads, separated into leaves
Mixed greens such as radicchio and arugula – 2 cups
Directions:
Rub a cookie sheet lightly with olive oil and leave aside. Take a large saucepan and heat it over low heat. Next, add butter and sugar together.
Simmer a few minutes, stirring often, until sugar has dissolved completely and the mixture darkens.
Stir in pecans gently until well-coated. Then, transfer nuts to a cookie sheet and separate them into a layer with the back of one spoon. Let it cool so caramel hardens.
In 1 large salad bowl, combine orange juice, orange zest, mustard, oil and vinegar and stir well using a whisk. Season with pepper and salt.
Add apples and mixed greens to dressing. After that, break cooled pecans apart and add half to the bowl.
Gently toss the mixture with your hands and top with the rest of crumbled pecans.
Divide among six plates and serve.
7. Low Sodium Recipes – Shrimp & Mango Summer Rolls
You should not neglect this dish when seeking for the healthy and delicious low sodium recipes. This recipe is low in fat and calories but high in protein.  Mango is full of tangy flavor and vitamin A and C as well.
You need to prepare:
Dipping sauce:
Lime juice – 4 tablespoons
Rice vinegar – 1 tablespoon
Agave nectar – 1 teaspoon
Sriracha sauce – ½ teaspoon
Thinly sliced scallion – 1 tablespoon
Rolls:
Rice paper – 8-inch round sheets
Large basil leaves – 16
Red leaf lettuce leaves – 4, spines removed & torn into 2-inch pieces
Cooked bean threads – 1 ½ cups or dried cellophane noodles – 1 3/4 ounces, cooled, rinsed & squeezed dry or
Small mango – 1/2, peeled & sliced into thin strips
Medium shrimp – 16, cooked & peeled, tails removed & sliced in half
Large mint leaves – 16
Directions:
Make the dipping sauce by in a small bowl, combining first five ingredients through scallion and refrigerating.
Make rolls: You take warm water to fill 1 large shallow dish. Wet 1 clean kitchen towel and wring out. Then, place on one clean work surface. Take a rice paper sheet and place it in warm water. Soak about 30 seconds to soften. Remove from the water and place on kitchen towel.
Working quickly and place 2 leaves of basil face down in the center of the paper, leaving three-inch at the bottom of the paper and 1 ½-inch on each side.
Place 3 lettuce pieces on the top of basil and mound 2 tablespoons of noodles on the top of lettuce.
Top each with 1/4 ounce of mango strips and 4 shrimp halves. After that, arrange 2 leaves of mint, face-side up, on the top of shrimp.
Pull the bottom of wrapper over the filling and fold in sides. Then, roll the wrapper into a cylinder and repeat with remaining ingredients.
 Finally, serve with dipping sauce.
8. Melon & Steak With Zesty Dressing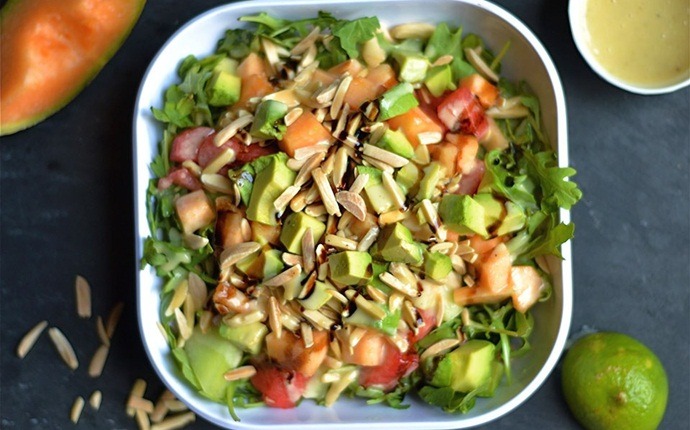 The healthy low sodium recipes must consist of this dish. It is suitable for every season.
You need to prepare:
Boneless sirloin steak, trimmed – ¾ pound
Salt – ¼ teaspoon
Freshly ground black pepper – ¼ teaspoon
Medium red onion – 1, cut crosswise into half-inch-thick rings
Fresh lime juice – 3 tablespoons
Honey – 1 tablespoon
Olive oil – 2 teaspoons
Smoked paprika – 1 teaspoon
Crushed red pepper -1/2 teaspoon
Cantaloupe – ½,  peeled, seeded & cut lengthwise into one-quarter-inch-thick wedges
Chopped fresh cilantro – ¼ cup
Chopped fresh mint – ¼ cup
Directions:
Take one lightly oiled grill pan and preheat it over medium-high heat. Next, sprinkle steak with pepper and salt; grill with an onion, turning the onion after about four minutes and steak after seven minutes, until the meat is medium-rare. Then, transfer the meat and onion to 1 cutting board; let it rest five minutes prior to slicing steak.
Combine lime, honey, olive oil, crushed red pepper and smoked paprika in a small bowl and stir with the help of a whisk. Thereafter, set dressing aside.
Slice steak and arrange on a platter with onions, cantaloupe, mint and cilantro. Drizzle with dressing and serve.
9. Low Sodium Recipes – Minted Gin Froths
This cocktail is free of fat & sodium and low-cal as well. So, this is considered among the healthy and tasty low sodium recipes.
You need to prepare:
Mint sprigs – 2
Hendrick's Gin – 1 ounce
Lime seltzer, chilled – 2 1/2 ounces
Agave nectar – 1 tablespoon
Directions:
Use your fingers to crush mint sprigs and place into 1 ice-filled rocks glass.
Then, pour gin, agave nectar and chilled lime seltzer. Stir well and serve immediately.
10. Spring Salad Smoothie
This smoothie is a great way to begin the day because it is full of fiber and superfoods such as spinach, avocado, flaxseed, and carrot juice.
You need to prepare:
Carrot juice – ½ cup
Chopped small ripe avocado – ½
Baby spinach or mâche – ¼ cup
Ice – ¼ cup
Frozen wheatgrass juice thawed – 3 tablespoons
Chopped fresh cilantro – 2 tablespoons
Fresh lemon juice – 1 ½ tablespoons
Ground flaxseeds – 1 tablespoon
Matcha tea powder – ½ teaspoon
Sea salt- 1 pinch
Directions:
Simply, take a blender and purée all the ingredients in it until smooth.
Pour into one chilled serving glass and afterward, serve.
11. Low Sodium Recipes – Sunrise Smoothie Parfait
When seeking for the tasty low sodium recipes, you should not miss this dish. This yummy recipe delivers 5 grams of protein, 2 milligrams of iron, as well as 8 grams of fiber.
You need to prepare:
Frozen unsweetened blueberries – ½ cup
Frozen açaí pulp – 2 tablespoons
light agave nectar – ½ tablespoon
Cold water – 1 ½ tablespoons
Cubed and peeled ripe mango – ½ cup
Ice – ¼ cup
Fresh lime juice – 1 tablespoon
Toasted wheat germ – 1 tablespoon
Frozen unsweetened pineapple cubes – ½ cup
Coconut water – ¼ cup
Flaked unsweetened coconut – 2 tablespoons
Directions:
In a blender, Purée first four ingredients until smooth. Take a chilled glass and pour into it.
Rinse blender and later purée mango with lime juice, wheat germ and ice until smooth. After that, spoon over this blueberry mixture.
Now again rinse blender and purée pineapple with the rest of ingredients until smooth.
Spoon into the glass over the mango mixture and serve.
12. Strawberry Citrus Sangria
This fat-free and low – sodium recipe is full of protein and fiber because it contains many healthy fruits.
You need to prepare:
Fresh strawberries, sliced – ½ pound
Thinly sliced peach – 1
Thinly sliced orange – 1
Thinly sliced lime – 1
Red wine – 2 cups
Cherry liqueur – 1 ounce
Club soda – 1 cup
Directions:
Firstly, place all the fruits in one large, chilled glass pitcher.
Add liqueur & wine and well stir. Then, cover and refrigerate for around 12 hours.
Remove from the fridge, add club soda and stir. Afterward, fill 4 glasses halfway using ice cubes and add sangria.
Finally, garnish with strawberry,  lime wedge, and a mint leaf. Enjoy it immediately.
In fact, these low sodium recipes can help to protect your health and get a healthy lifestyle. Do you know other healthy and tasty low sodium recipes? Please share with us & other readers by commenting in the box provided below.
Recommended articles:
Health Benefits Of Himalayan Salt Crystals
Want More Content Like This In Your Inbox?
Join The Discussion