Swollen lips, also called lip oedema, often appear when the lips are injured. It is also caused by other reasons such as illness, medicines, allergies, climatic conditions or dryness. If your lip is swollen, you may have difficulty in eating, drinking, talking or even opening your mouth. In some cases, swollen lip is one of the common symptoms of angioedema or anaphylaxis. With less serious cases, swollen lip may happen and disappear quickly. But if it is a sign of infection or inflammation or condition, you need to treat quickly.
How To Get Rid Of Swollen Lip Fast And Effectively By Natural Remedies
There are many ways to treat swollen lip including chemical treated products and home remedies. However, chemical treated products can backfire and cause harsh side-effects for you. The best and safest way to treat swollen lips is to use natural home remedies.
Although it requires your patience, it is rather effective for your swollen lip. Here are some remedies you should use to treat:
1. Aloe Vera
Aloe vera is full of several anti-inflammatory properties that make it become one of the trusted natural remedies to decrease swollen lips as well as its burning sensations. This remedy is excellent for swelling caused by mosquito or insect bites or any allergic reaction. All you need to do is apply some extracted aloe vera gel or juice on your swollen lip and gently massage the affected part so that this gel or juice gets absorbed into your lips well. You had better follow this process 2 to 3 times per day until the swelling on your lips is reduced remarkably.
Read more: Some Side Effects & Benefits Of Aloe Vera On The Body
2. Vaseline 
Vaseline is known as the king of skin as well as swollen lips treatment. You can apply the thick viscous balm directly on the lips. Gently massage it until it gets absorbed completely. Petroleum jelly is also known to be good and safe for your skin, unlike dangerous chemicals. You can apply it on daily intervals to moisturize the lips and decrease the swelling as well.
3. Honey
Honey comes with anti-bacterial and healing agents, therefore curing lip swelling fast. Plus, honey will moisturize the lips and prevent infection. Moreover, it eases pain and inflammation caused due to swollen lips. Last but not least, it will keep the lips well moisturized, inhibit infection and reduce inflammation, pain and swelling. So, how to get rid of swollen lip with honey? Follow these easy step by step processes:
Take 1 tablespoon of honey and dip one clean cotton ball in this.
Then, apply it on the swollen lip and keep it on the lips for about 20 minutes.
After that, wash the area with the help of cold water. This swollen lip treatment should be repeated two or three times a day.
Read more: 11 Ways To Use Honey For Treating Acne Scars
4. Coconut Oil
Due to its anti-inflammatory properties, coconut oil can decrease the swelling on your lips. Besides, the oil can offer one soothing effect to your lips. Here's the recipe that shows you on how to get rid of swollen lip using coconut oil:
Take 1 teaspoon of coconut oil and apply it on the swollen lips around 3 to 4 times per day.
It will help reduce the swelling and soothe the lips as well. Besides, it helps to reduce the pain.
5. Salt And Witch Hazel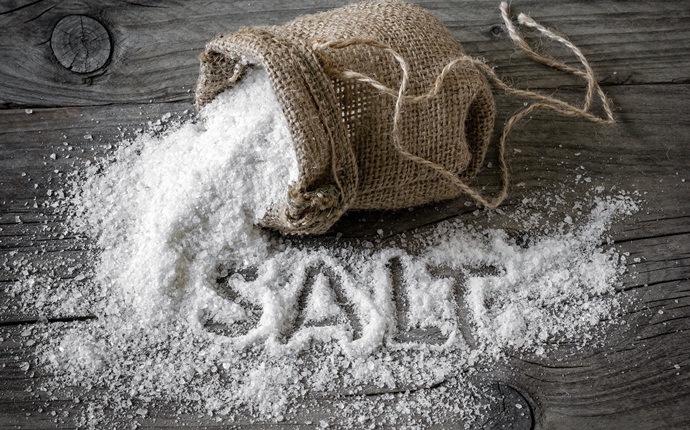 Witch hazel extract and salt can cure the swollen lips very effectively due to their various medicinal properties.
You prepare 1 tsp of salt along with 2 tsp of witch hazel extract.
Then, mix the two elements properly and apply the mixture on your swollen lips.
Leave it on for around 15 to 20 minutes and Rinse off this mixture with cold water.
Repeat this process every day twice to remove swollen lips
6.  Potato
With cooling property, the potato has been used to cure many swelling types for years. And potato is also potato a great treatment for the swollen lip. You need to wash a potato and later cut it into many thick slices. Put the slices over your swollen lips for a few minutes. Or, you can grind it to create a paste for application easier.
7. Cold Compress:
This way is one of the best remedies to help reduce the swollen lip. You should remember to use only cold compress to apply on the swollen lip not to use ice because it can lead to soreness or mild frost bite. With this remedy, you only need to use a paper towel or washcloth with ice inside or a cold spoon, press the cold compress gently on the swollen lip for about 10 minutes and take it out. Do it again until the swelling is better and remove the pain and discomfort.
8. Black Tea Bag: 
Black tea contains tannins, great astringent that can be useful for reducing swollen lip. This way is very simple. Take a black tea bag to soak in warm water for 10 minutes. After that, put the bag from the water and make it cool. Apply it gently on the swollen lip for 10 minutes. Do it again for several times a day to get the good result.
Read more: health benefits of tea
9. Warm Compress:
Like cold compress, using a warm compress to treat the swollen lip is also an effective remedy. When applying this way, the blood will be improved to the lip, decrease the accumulation of blood, and reduce the swelling and inflammation in the swollen area. Its usage is to take a washcloth to soak in warm water and squeeze the excess water. Use it to apply on the lip for about 10 minutes. And do it again after one hour with a few times a day to get the desired result. You should notice to avoid using this remedy in the initial few days of the injury and if you have a break in the skin.
10. Salt: 
Salt is one of the effective remedies on how to get rid of swollen lip naturally and fast at home. Salt is always available in your kitchen. It is known as a natural disinfectant that is helpful for killing harmful germs that can cause infection. Firstly, you dissolve a tablespoon of salt in a cup of warm water. After that, dab it gently on the cut with cotton ball. Repeat this remedy once or twice a day. It can be helpful for healing the cut and ease the swelling.
Learn more: sugar sea salt scrub recipes
11. Turmeric Powder: 
Turmeric powder has the antiseptic and healing properties that are very good for swollen lip. The antiseptic properties of turmeric powder can help to prevent infection. In order to treat swollen lip, you have to mix a little turmeric powder with a teaspoon of fuller's earth and cold water to create a paste. Use this paste to apply on the affected area and wait until it gets dry. After that, clean with warm water. This solution should be used twice a day to stop pain and swelling.
12. Baking Soda: 
Many people know that baking soda has many benefits in beauty and health. But few people know it is also suggested to treat swollen lip that caused by allergic reaction, fever blister or insect or mosquito bite. Like other remedies, it can contribute to reduce the pain and inflammation. This remedy is used by mixing 3 teaspoons of baking soda with 1 teaspoon of water to make a thick paste. This paste is used to apply on the swollen lip. Forget it for a few minutes and wash it out with cold water after. Follow this solution several times a day to get a good effect.
13. Tea Tree Oil: 
This oil is another effective item for how to get rid of swollen lip naturally and fast at home. Anti-inflammatory and antimicrobial properties of tea tree oil are very helpful for treating swollen lip effectively. However, if you want to use this remedy, you should notice not to use this oil in its pure concentration and not use on children. Treating with tea tree oil is to dilute this oil with other oils like olive oil or coconut oil. After that, apply it on the swollen lip for about 30 minutes. This action can help to moisturize and disinfect the swollen lip. Wash it out after 30 minutes. Repeat this solution for several times a day. Alternatively, you also mix a teaspoon of aloe vera gel with some drops of tea tree oil to create a special paste. Use this paste to massage the lips gently for a few minutes. Rinse it out after leaving it on for 30 minutes. Do it again twice or three times a day.
The above include 13 remedies for how to get rid of swollen lip naturally and fast at home that are very effective in treating swollen lip that we would like to show you in this website. Do you want to try one among them? If you did, share with us your experience and result you got after using it to remove swollen lip by commenting here. Your experience will be valuable for us.
Related articles:
5 homemade lip balm recipes for you – easy & natural
7 natural home remedies for canker sores in mouth
Want More Content Like This In Your Inbox?
Join The Discussion