8. Blow Dry Your Locks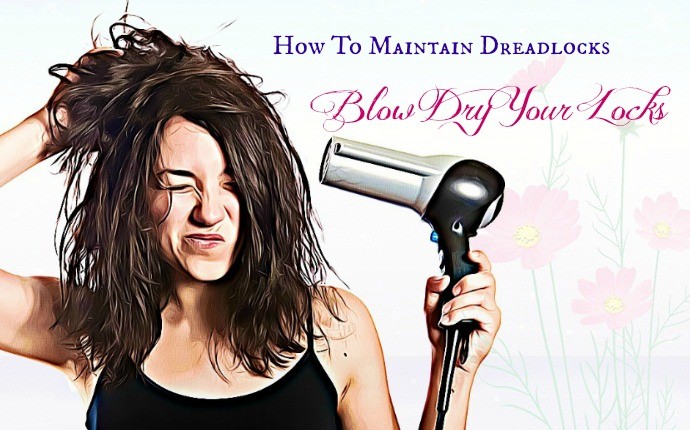 When it comes to tips on how to maintain dreadlocks by yourself, you should try to blow dry your locks right after you wash your hair. According to a study [2], when your dreadlocks are wet and you do not let them naturally dry out or blow to dry them, this can actually result in a horrible smell. Also, using a hat to pin them up when dreads are still wet may be the worst thing you can do with your dreads. The moisture is trapped and thus, resulting in a horrible smell. So, in order to maintain dreadlocks and keep them dry, you should blow them dry
9. Avoid Retwisting Your Hair Too Much
If you want to learn how to maintain dreadlocks by yourself, you should avoid re-twisting your hair too much. We all like re-twisting our hair to get a fresh look, but when you re-twist your hair too much, it can result in a thinning and breakage at the hair's root. Therefore, you should opt for a new hairstyle that you can try out between re-twists. Also, this is the great time to experience a new look.
If you want to know some of the best uses of olive oil for scalp problems, read Olive Oil For Scalp Treatment: 16 Best Uses
10. Opt For A Good Locktician
Having a good locktician is a great way on how to maintain dreadlocks, especially in the early stage when hair locs are growing. Actually, it is very important to see a locktician who can offer you some advice. When you let the hair grow naturally, it can start locking. Plus, when you twist your natural hair, talk to your locktician about your hair condition and your desired hairstyle before the locktician twists your hair. Addition to this, you should feel comfortable with the locktician and make sure that they really know your dreadlocks well. A good locktician can offer you small yet important things about your current hair condition and dreadlocks.
There are some other tips on how to maintain dreadlocks by yourself that you should know and then consider following at home. So, continue reading this entire article!
11. Keep Your Dreadlocks And Residue-Free And Reap The Benefits
Keeping the dreadlocks residue-free is one of the best ways on how to maintain dreadlocks by yourself. If your hair locs are tighter, you may have fewer stray hairs while your hair locs will become smoother. To get this, you should use proper shampoos for washing hair locs and keeping these locs tight.
When you use shampoos, a problem is that these shampoos often leave unwanted residue in the hair after you rinse it off. You can find it by smelling your hands or hair after using the shampoo. If it leaves a smell, it may leave residue accumulating inside the hair locs, making you feel itchy. Addition to this, they can make thicker hair locs have difficulty in drying out as well. The residues act as a lubricant that may make your hair difficult to lock and make your hair locs hard to tighten. So, it is advised that you had better use shampoos that leave no unwanted residue on the dreadlocks.
More importantly, residues can also result in scalp irritations. Actually, there are some reasons that lead to the itching and dryness on the scalp and the residues from chemicals is one of them. Hence, you have an additional reason to use a kind of shampoo without residue in order to keep your scalp clean. Plus, you can consider using oils when you wash your hair in order to maintain the natural moisture of your scalp. Due to this, you can surely control the scalp health and simultaneously keep it strong and healthy.
12. Use Rubber Bands
Another effective tip on how to maintain dreadlocks by yourself is to make use of rubber bands. This tip can be very helpful for those who are maintaining their dreadlocks. This is because tightening rubber bands can make your dreads hurt. Instead, you can wear dreads snug, this means that you gather your hair at the dreadlock roots to keep your dreads tightening faster than normal. Besides, according to a study about dreadlocks rubberbands [3], rubber bands can also be used to keep the new dreadlocks separated. When you cannot roll the rubber bands down and up the dreadlocks, the reason may be that rubber bands are tied too tight.
13. Wear A Head Scarf
According to a study about ways to sleep with dreadlocks [4], dreadlocks can become fuzzy even when you always keep them clean and this often occurs when you have a sleep. To deal with this condition, sheets and pillowcases that do not shed lots of lint can be helpful. You can wear a headscarf on your head to keep lint and feathers out of the hair locs while your scalp and dreads can still breathe. Addition to this, you can purchase larger headscarves to help longer dreads in stretching out so that they will not allow your dreadlocks to be squished down.
In fact, this is one of the best tips on how to maintain dreadlocks by yourself that you should know and then follow for good.
14. Waxing
If you want to continue waxing, you should only apply the smallest amount and it should be done every 6-12 weeks. In case your hair becomes dry and course, you can consider increasing the frequency of waxing. Once your dreads reach your desired tightness, you are able to pull back on the wax and only use it when your dreadlocks have become loose or dry. Actually, wax injects your hair follicle with needed vitamins, so it is a great way for you to condition mature dreadlocks.
Also, you can use Tightening Gel in addition to wax or use it as an alternative. Actually, it is a good way to control loose hairs. With its lighter, you should wash out it as frequently as you want. Besides, if you are experiencing waxy buildup, you can de wax by using a hair dryer to heat each dread. Press a paper towel into your dreadlock in order to mop up as much wax as possible and then soak them in some hot water.
In fact, waxing is also among the best tips on how to maintain dreadlocks by yourself that you should make use for good.
15. Wear Shower Caps
If your dreads are new, you may need to wear larger shower caps or swim caps that are big enough to cover dreadlocks [5]. Dreads are nice and tight right after installation, but they will become a little untidy and messy when the maturing process is just beginning. In fact, this is also among the best tips on how to maintain dreadlocks by yourself that you should try to follow for good.
After reading this article about ways on how to maintain dreadlocks by yourself, I hope that the readers of VKool.com will spend time reading another article that reveals some of the best hair mask recipes for frizzy hair – the Best Natural Hair Masks For Frizzy Hair: 20 Homemade Recipes article. Actually, this article can help you make homemade hair masks that can deal with your frizzy hair at home.
In this article, I revealed 15 tips on how to maintain dreadlocks naturally by yourself that we want to reveal in this article. Most of these tips are effective in maintaining dreadlocks at home, so if you have dreadlocks and want to maintain them naturally, try any of these tips for good. Also, if you feel that this list may be helpful, you can share these tips with other readers and stimulate them to follow one or more of these tips for good.One more thing, if you have other ideas about this topic, share these tips on how to maintain dreadlocks with other readers by leaving your comments below.
Read related articles about hair health and hair growth that you may be interested in:
54 Tips How To Grow Thick Hair Fast In One Month
17 Foods Good For Hair Growth And Regrowth
Honey For Hair Growth – Recipes & Benefits Of Using Honey On Hair
9 Best Proteins For Hair Growth
Top 8 Homemade Egg Hair Mask Recipes For All Hair Types
Want More Content Like This In Your Inbox?
Join The Discussion