Summer is an amazing time of year. A lot of people love it as there is a variety of delicious, fresh and healthy food choices. More importantly, many of summer's vegetables and fruits contain secret health benefits. Here are some best foods for summer and why they are good choices to add to your diet in the summer.
Read More: At-Home Tips On How To Keep Fruits And Vegetables Fresh For Longer
List Of 35 Foods For Summer – The Best Foods
In this article today, I would like to reveal some of the best foods for summer in details, so you should pay your great attention to the following interesting health facts and the list of foods for summer that you should add to your diet for good.
1. Sweet Corn
This is the first out of the best foods for summer that I want to reveal in this article and want you to learn and try to add this food to your diet.
Fresh sweet corn is a good food choice for summer. And as you know that 2 main antioxidants found in sweet corn – zeaxanthin and lutein may work like natural sunglasses, aiding to create macular pigment filtering out some of the damaging rays from the sun. Besides, the same antioxidants may help you lower the risk of getting age-related macular degeneration. This is one of the main causes of blindness in people over 60 years old.
Sweet corn is actually a good food for summer, so try to add it to your diet for good!
Read More: 26 Benefits Of Corn For Health And For Weight Loss
2. Watermelon
Staying hydrated may keep your mood stable and your memory sharp. Also, it helps to keep you cool during summer months. A good news for you is that you do not need to drink water. Instead, you can eat watermelon. Apart from delivering skin-protecting lycopene, this fruit is 92% water, so eating it may help keep you satisfied
Learn More: 22 Benefits Of Watermelon For Skin, Hair & Health And Its Uses
3. Iced Coffee
A cup of iced coffee is a good way to get started your summer mornings. More importantly, drinking a cup of coffee every day may lower the risk of getting skin cancer. According to a study of over 93,000 women, those who consumed a cup of coffee daily reduced their risk of getting non-melanoma skin cancer by nearly 10%. The more they drank, the lower their risk.
Read More: Health Benefits Of Coffee And Milk 2023
4. Iced Tea
A cup of iced tea on hot summer days is refreshing and it also does your body good. Research shows that in case you drink iced tea regularly, you may reduce the risk of developing Alzheimer's and diabetes. Also, drinking tea may help you have healthier gums and teeth as well as stronger bones. This is because tea is high in flavonoids.
Regardless of the variety- green, black, white, oolong or herbal may maximize the effect of flavonoids found in tea by drinking it brewed. In case you would like to keep cold tea in the fridge, add one drops of lemon juice. The vitamin C and citric acid found in lemon or orange or lime may help you preserve the flavonoids.
Read More: Weight Loss Tea Recipe: Top 11 Best Solutions
5. Tomatoes
There is no doubt that sunscreen may be the first defense against the damaging rays of summer sun. However, consuming tomatoes can offer you a little protection. Consume more lycopene, which is the carotenoid making tomatoes red may help you protect your skin from getting sunburn.
In a study, people who were exposed to damaging rays had 50% less skin reddening after eating 2 ½ tbsp. of tomato paste daily for 10-12 weeks. However, supplements were not effective. Also, in the same study, people who got a synthetic lycopene or lycopene supplement were not protected against sunburn.
Learn More: 12 Easy Homemade Tomato Soup Recipes
27 Easy Fresh Tomato Recipes For Daily Diet Plan
6. Zucchini

Grilled, raw, rolled, diced or sliced, zucchini is a good summer vegetable. Only 20 calories for each cup, this food has no cholesterol and fat and 35% of your recommended vitamin C intake daily.
Read More: 23 Best And Healthy Zucchini Recipes – Easy Recipes To Make
7. Yogurt
Portion-controlled, protein-packed and easy to keep in your bag (just freeze a yogurt container before going, so it keeps cool until you are ready to enjoy), yogurt is a perfect choice for summer. The protein may satisfy your tummy, which may keep you from overloading on high-calorie and salty snacks. You should opt for brands that are high in protein and low in fat. It has twice the protein amounts of regular low-fat yogurt. Also, yogurt adds a plenty of probiotics and useful bacteria that may keep the digestive system smooth.
Learn More: 18 Health And Beauty Benefits Of Yogurt Consumption
8. Fruit Salad
Summer is peak season for berries and stone fruits, and people who eat fruits tend to weigh less than those who do not eat fruits. Red, blue and purple fruits are good sources of vitamins and antioxidants and some of them, especially berries may meet up to 1/3 of your daily fiber requirements.
Learn More: The Pros And Cons Of Eating Vegetable Salads Regularly
9. Shrimp Cocktail
Good for a snack as an appetizer or for a light lunch, shrimp are low in calorie and high in protein to get energized. They offer about 14% of the daily recommended iron consumption.
This is, in fact, one on the list of foods for summer that you and all of my readers should know and try to add this dish to your diet for good.
10. Gazpacho
In summer months, the last thing that you would like to do is to stir a pot over the medium heat and then make a steaming bowl of soup. A perfect solution is chilled soups. Gazpacho is packed with healthy ingredients such as cucumbers, tomatoes and bell peppers, which make it a flavorful soup. A cup of gazpacho is 88 calories with only 4g of fat and no cholesterol.
In fact, this is also among the list of foods for summer, so people should add more of this healthy food into their diet for good.
Learn More: Fresh Green Tea Leaves Benefits: 13 Advantages For Skin & Health
11. Grilled Chicken Kabobs
Chicken kabobs are full of protein, yet low in fat, calories and carbs. When you add vegetables such as bell peppers, zucchini, and squash to the skewer, you will be able to add summery flavors and plenty of antioxidants. Vitamin C-rich red bell peppers are a good addition because they have sweeter on the grill as well as 1/2 cup provides just 14 calories. Another option for you is to dip chicken skewers into yogurt sauces.
12. Oranges
This sweet citrus fruit is high in potassium, which is a nutrient good for summer. According to a study, in summer, you may lose potassium through sweat, which places you at high risk for muscle cramps. Consuming oranges may replenish your supply and simultaneously keep muscle cramps away. In addition to this, oranges are about 80% water, so consuming some slices will help keep you hydrated during summer days.
13. Celery And Fennel
Celery and fennel work as diuretics, aiding you to lose excess water weight without leading to dehydration. The compounds in both veggies may encourage your kidneys, resulting in flushing extra fluid and waste from your body, which causes bloat in the tummy.
This is in brief one of the best foods for summer, so people should not skip out, but try to add these foods to their diet for good. Do you want to know other foods for summer? Continue reading this entire article to discover the world of foods for summer!
14. Cantaloupe And Honey Dew
Cantaloupe and honey dew are also diuretics, which are important for women as they are affected by hormonal changes.
This is actually also one out of the best foods for summer that a lot of people in the world have been making use to benefit them for good.
15. Tart Cherries
They deliver a plenty of health benefits. Perhaps, you have heard that drinking a cup of tart cherry juice can support you to get a better night sleep. As you know that compounds found in tart cherries also help you get leaner and slim down. In a study when scientists place rats on a high-fat diet with either tart cherry powder or the same number of calories coming from carbohydrate, those consumed the cherry powder gained less body fat and weight. This is because the anthocyanins found in tart cherries may activate a molecule that aids to decrease fat storage and stimulate fat burning.
16. Raspberries
They are a good source of fiber, which helps you lower the cholesterol level. A cup of raspberries contains 8g of fiber and a study shows that consuming more fiber may promote weight loss and prevent weight gain. Researchers also found that participants increased their fiber intake by 8g for every 1,000 calories, they might lose about 4 ½ pounds. In case you consume 2,000 calories daily, you aim at increasing your fiber intake by 16g.
17. Blueberries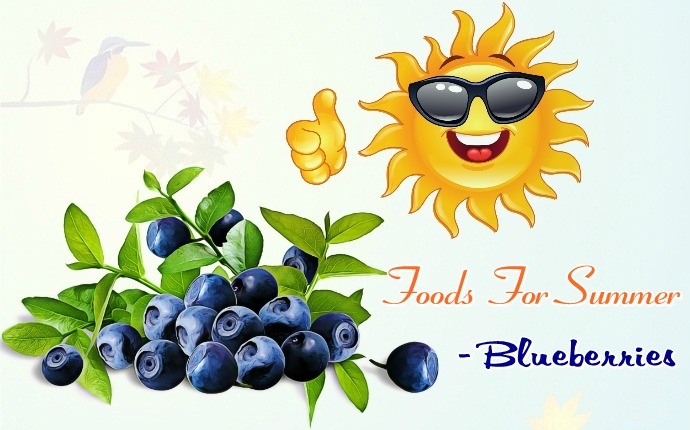 Another one on the list of foods for summer that I would like to reveal in this entire article and want you and my other readers to know and then try to add their healthy fruits to their diet as soon as possible. The antioxidants found in these fruits may help you prevent muscle fatigue by collecting the extra free radicals that muscles may produce during exercises.
18. Salmon
When considering the great foods for summer, salmon is a good choice for you as it makes important in reducing heart disease, which is one of the most common causes of women's death. Salmon contains a large amount of protein and omega-3 fatty acids, which are good for your overall health.
19. Healthy Foods For Summer Days – Avocados
Although it may be lumped in as a good source of monounsaturated fat, so it is a superfood that deserves a good place in your kitchen.
This is also a great one on the list of foods for summer that people should not look down but learn and consider adding avocados to their diet as soon as possible
20. Nuts
Another out of the list of foods for summer that I would like to reveal in this entire article and want you to learn and remember is to try to add nuts to your diet for good. Snacking on handfuls of cashews, almonds, and peanuts will help you fill with polyunsaturated and monounsaturated fats, which are known to lower bad cholesterol levels.
21. Kale
In summer, kale is a healthy salad staple. However, the nutrient-dense veggie can add a solid amount of fiber to a yogurt-based smoothie. This combination will make a refreshing and super-filling summer snack that helps to reach for snacks with higher-calories.
This is also one on the list of foods for summer that people should know and make use of this food for good.If you want to know other foods on the list of foods for summer, you should not miss out this article, but continue reading it.
22. Pluots
They are one of the most delicious fruits for summer with their unique flavor and natural sweetness. They are a highly nutritious addition to any of the weight management and diabetes eating plan. They look like a plum as they are generally about 70% plum and 30% apricot. Pluots have an intense flavor and they are high in vitamin A and C and are low in sodium and fat and are cholesterol-free.
The sweetness of this fruit makes it a good choice for summer fruit salad. This fruit can be used as an ingredient in frozen yogurt or desserts or a topping for whole grain cereals or in a sauce over grain pancakes.
23. Peppers
It sounds a little bit strange, but in fact, pepper is also one of the best foods for summer you should not look down or skip at all costs! The reasons for this will be showing right now!
Available throughout the year and most abundant during summer, peppers are a good addition to any of your meals. They are full of nutrients and are high in vitamin C, B6, thiamine, beta-carotene as well as folic acid. Peppers have a huge amount of phytochemicals that get antioxidant activities. Besides, red peppers also have lycopene that aids to protect against heart disease and cancer. A cup of sliced peppers contains 28 calories and 6g of carb, so it easily fits into any weight or diabetes management plan.
24. Cucumber
When it comes to best healthy foods for summer, we cannot forget the appearance of cucumber, of course! This is actually one of the best foods for hot days that will help to offer our body healthy amounts of water and vitamins.
Keep cucumbers in your fridge as it is a wonderful vegetable for the summer. A cup of sliced cucumbers contains only 4g of carb and 16 calories. Health benefits of cucumbers are various. The seeds and skins of cucumbers are high in nutrients, so eating the whole fruit is the best. Cucumbers contain lignin, which is known to provide anti-cancer benefits by boosting a protective power of bacteria occurring in the digestive tract.
25. Pineapple
Another one on the list of the foods for summer that I would like to reveal in this entire article today and want you and all of my other readers to know and consider adding pineapple to your diet if you want to find out a food in summer.
This tropical fruit contains 2 enzymes that make this fruit worth eating in the summer days. These enzymes may help you metabolize body fat and break down food more effectively.
26. Coconut Water
Coconut water is packed with health benefits and contains wonderful cooling properties. It has simple sugars, essential minerals, and electrolytes, which help keep you well-hydrated. Also, coconut water has anti-cancer and anti-aging properties, so you should not skip out this wonderful drink in summer.
27. Eggplant

Add fiber and antioxidants to your meals with this purple veggie. This unique texture and flavor of eggplant suits a variety of cooking recipes. Consider grilling or roasting with a light coat of olive oil for a main dish or side dish. Besides, eggplant is also a great source of potassium and molybdenum. It is also high in vitamin B6, C, K, copper, magnesium, folate, and niacin.
28. Mint
It is a simple and inexpensive herb, which you can add to your curd. The best thing about mint is that you can grow it at home for your use. Although it will not help bring the body temperature down, we love it due to its delicious and refreshing taste.
In fact, this is among the best foods for summer, so people should consider adding this food to your diet for good!
29. Red Snapper
It is a healthy and low-calorie choice for summer. Red snapper has heart-healthy omega-3s. Red snapper is also full of fats, it is a lean choice if compared to most of the meats. Plus, it becomes a high-protein addition to any of the meals. Also, it is rich in vitamin B12, which aids to keep a nervous system healthy.
It has a sweet flavor along with a firm texture. Combine this food with bold flavors like basil and red pepper and grilled sweet veggies like cherry tomatoes. This is actually one of the most amazingly healthy foods for summer days we cannot ignore at all costs!
30. Jicama
This crunchy vegetable has a natural prebiotic that may help your body metabolize B-complex vitamins which help to generate an amino acid that boosts fat metabolism. Besides, this superpower also promotes a healthy bowel movement, a flat belly, and high energy levels. Dietitians also recommend that you should snack on jicama sticks dressed with lime and chili powder.
31. Lime Water
It is not only refreshing, but it also has a lot of health benefits we cannot ignore. You can have it salted, sweet or add some black salt as well as cumin powder to it. In fact, lime water and foods made with lime juice are among the best foods for summer that we would like to encourage readers of Vkool.com to learn about and make use as soon as possible for good!
32. Green Beans
You may not think that green beans are a power food. However, with antioxidants such as beta-carotene and lutein, their nutritional power is comparable to other bright-color veggies.
Green beans are a good source of vitamin A, C and K. Also, they are mild in flavor, they become a good low-calorie addition to your meal, whether steamed, stir-fried or in salads. A cup of green beans has only 10g of carb, 44 calories and about 4g of fiber, which is important for glucose management and digestion. As delicious as fresh beans are, you can gain a plenty of valuable nutrients from frozen or canned green beans.
33. Onions
They have cooling properties, so you can add them to your dips, curries, raitas, chutneys, and salads to help keep your body cool. Besides, red onions are high in quercetin, so it is a wonderfully natural anti-allergen. Consuming lots of onions can help you protect from sunstroke. In fact, when it comes to best and healthy foods for summer, onions are always on top! All you need to do is just to add this healthy natural gift to your family's meals every day and make use of all health benefits those tiny yet powerful agents bring about!
34. Spinach
Spinach makes it super food because this leafy green is full of vitamin A, C, iron and folate and only 7 calories per cup. Besides, it can also cut cravings. A study found that a daily drink with spinach extract boosted weight loss by about 45% and simultaneously reduced food cravings by about 95%. Therefore, make a green smoothie or add it as a burger topper or sandwich.
35. Ice Cream
This is the last but very important out of the best foods for summer that I would like to reveal in this entire article and want all of my readers to eat ice creams if they are trying to cool down your body temperature.
There is no fun if we do not have ice creams in summer. Add some fruits to ice creams to make them less sinful and simultaneously indulge your taste buds. Try making some ice creams at home.
After reading this entire article about the best foods for summer and their wonderful health benefits, another thing that I want you and my other readers to do is to spend time reading another article that reveals the list of healthy summer foods as well as easy-to-make recipes for dinner – the  Healthy Summer Food Ideas & Easy Recipes For Dinner article. This is actually a great article including best summer food ideas and recipes for dinner that a lot of people in the world have been following for their dinner at home, so readers of VKool.com should read this recommended article and consider making at least one of them for their dinner at home.
This is the list of 35 best foods for summer that everyone who wants to know which foods should be added to your diet in the summer should read and remember for good. In fact, these foods as I mentioned in this article offer a plenty of health benefits for the whole family and they are also delicious, so many people in the world have been adding these foods to their diets at home. The health benefits of these foods for summer are actually proven, so you do not have to worry when making any of these foods at home.
After reading the list of foods for summer and learn their health benefits, if you think that this list is good for you and other people around you, you should share this list and try to add one of these foods to your diet this summer. One more thing, if you have any ideas about other foods for summer, remember to share them with other readers by leaving your comments in the comment section below. We will try to reply to your comments as soon as possible!
Some related articles about best baby foods as well as how to feed a baby that you may be interested in:
How To Reduce Body Heat Naturally In Summer – 9 Useful Ways
How To Stay Cool In The Summer Without A Pool Or Air Conditioning
Healthy Summer Salad Ideas: 31 Easy Recipes
11 Healthy Fruit Smoothie Recipes With Yogurt For Summer
27 Fun Summer Ideas For Kids, Teens & Couples
Want More Content Like This In Your Inbox?
Join The Discussion