Aging is considered as a natural part of our lives for both women and men. However, it does not mean that it always brings us the pleasure. In case you are worried that you are losing your youthful look, you will not be alone. Do not worry about this because there are surely ways on how to look young. In fact, there are a lot of tips that help you knock years off your look without getting surgery or spending too much money.
How To Look Young – 12 Best Natural Tips:
There are actually a lot of different ways, tips, and tricks that can help people learn how to look younger than the real age. However, everything needs passion and patience to go right. If you are a patient person, then you will be able to make use of this article without facing difficulty or failure.
In the article today, I would like to reveal some of the best tips on how to look young in details so you should keep your head on the following interesting ways and the most common tips to help you look young. The tips you will learn from this article are very simple to follow and will be helpful for everyone out there who really wants to improve the appearance within a short time period, including:
1. Take Care Of Your Skin
This is the first out of the best tips on how to look young that I would like to introduce in this entire article and want you and my other readers to learn and make use for good!
Firstly, aging skin will not need harsh facial care products because at this time, there is not any excess oil. If you choose a too harsh cleanser, it will strip your skin's natural oils, and thus causing signs of aging more quickly. Look for cleansers aimed at your age group or products that are described as gentle or moisturizing ones.
Secondly, it is really important to bring a moisture boost to your skin. Look for good anti-aging moisturizers day and night by looking at high-rated reviews or finding a scientific research that supports the product. Besides, you should avoid skin products that include astringent or alcohol base.
Thirdly, you should also exfoliate gently your skin. This will encourage your skin cell renewal, thus making your skin younger, softer and brighter. You should choose products aimed at older skin because they will be more gentle and will not dry out or damage your skin.
Next, dermatologists recommend that you must wear sunscreen at least SPF 30 before being out in the sun in order to protect your skin from harmful ultraviolet rays that cause sun damage, premature aging such as wrinkles, brown spots as well as a dull complexion and even skin cancer. Remember that taking care of the skin is not just for women, there are a lot of similar products aimed at men on the market.
Finally, do not forget to take care of your neck. Follow this daily routine: moisturize your neck every morning and night, exfoliate 1-2 times a week and apply sunscreen before being out in the sun.
Taking care of your skin is actually a useful way to help you look, so try it out!
2. Wear Makeup
There are a variety of makeup tricks that can help you look younger as well as hide your signs of aging. You should hide your blemishes while emphasizing your best facial features. Here are some makeup tricks you can try:
Ÿ Use a creamy concealer as any concealer that can get cakey can make you look tired and older.
Ÿ Show off your eyelashes as when you get older, your natural lashes will get thinner and straighten out, thus you should curl them or even wear thickening mascara.
Ÿ Use brown eyeliner instead of black one. This is because when you get older, black will look too stark in comparison with the rest of your face; whereas, brown will make more gentle frames in the place around your eyes.
Ÿ Get a good moisturizing foundation and avoid anything related to a powder base. Also, use a primer before applying foundation. This will make your foundation more smoothly, fill in lines and pores, reduce dark circles and make all your makeup last.
Ÿ Minimize the drama that is around your lips. A pale shade of lipstick can be a good choice for your face. However, you should not wear bright lipstick as you get older, your lips will thin out and you do not need to overcompensate.
In fact, wearing makeup is one of the best ways on how to look young that most of the women around the world should learn and make use of to get a young and beautiful skin.

3. Update Your Hairstyle
A trendy haircut can make most of your facial features youthful. You can check out several stylish magazines and see which hairstyles are now popular. You should not go for something ultra-trendy in case it is not your style, but having a modern haircut that suits you can make you look younger. For women, layers can take some years off the age. They will make your hair look more airy, voluminous and textured. For men, if you are getting bald, you can consider shaving your hair instead of letting your baldness show.
In addition to this, many people would like to get rid of gray hair, and on the market, there are a variety of hair dyes that can help you deal with it. It is advised to choose a color that is nearly similar to your natural hair color so that it will look more natural. You can go to a salon to get your hair professionally dyed or buy a hair dying kit to use at home. Remember that all hair dye is harmful to your hair, so avoid dying regularly, and use hair care products designed to damaged or dyed hair.
In fact, it is also among the best tips on how to look young so that people should choose a proper hairstyle to get a youthful and modern look.
4. Maintain Healthy Teeth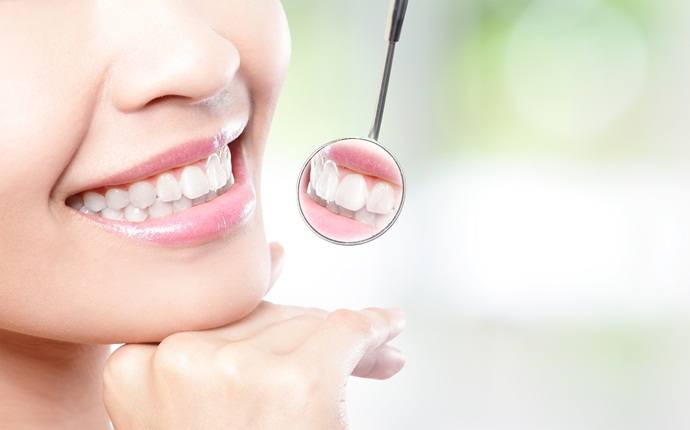 Teeth can give away your actual age more than any other part of the body. Healthy teeth can make you look more attractive and younger at once. You should have a tooth care routine including brushing, flossing as well as using mouthwash. If you get any problems with your teeth or your teeth are not white enough to make you feel self-confident, you should see a dentist for advice.
This is in brief one of the best tips on how to look young so that older people should not look down yet try to make use of getting healthy teeth and enjoy a young look.
5. Dress Well For Your Body Shape
Wearing clothes that suit your body type and your age can make you look more trendy and slimmer. Women do not need to show additional cleavage in order to make you look younger. Instead, you should wear flattering shirts that show off your best features. Moreover, you should update your wardrobe. In case you do not know what you should buy, try asking a family member or friend with a good style for advice. Otherwise, look at magazines and imagine how you apply it to yourself.
In addition to this, wearing bright colors will make you look more vibrant, energetic and youthful. Get rid of some of the black, gray and other neutral toned clothes and add some red, green and other bright colors to your wardrobe. Although dark colors may make you look slimmer, they also make you look older than you actually are.
Moreover, women will look younger in case they wear cute and stylish earrings and necklace instead of wearing a matching earring and necklace set that can make them more dignified yet older. Also, women who get colorful rings also look younger as these rings bring some spice to their normal outfit.
Finally, wearing a little pink grapefruit scented perfume behind the ears can make women give off their younger vibe.
This is actually also one out of the best tips on how to look young that a lot of older people in the world should learn and have been following to get a youthful appearance.
6. Drink Water Regularly
Another out of the best tips on how to look young that I would like to reveal in this entire article and want you and my other readers to learn and remember to make use is that drinking water regularly can help you get a younger look.
You should drink 8-10 glasses of water every day, and this will help your skin be moisturized, fresh and young. Hydrating will make you not only feel your insides healthier but also look better on the outside.
Besides, green tea was found to prevent some cancers, remissions, bladder, colorectal. Scientists found that drinking at least a cup of green tea a day can help to keep your brain sharp.
7. Exercise
This is also one of the best tips on how to look young that people should learn and make sure for good, especially those are overweight.
Some people are too busy now, so regular exercise can be difficult for them. Nonetheless, even small but regular exercise will also help to make you energetic and young too. Combine regular exercise with a healthy and well-balanced diet and you will get a better health for longer and prevent illnesses that can add some years to your look. You should make an exercising goal for at least half an hour a day. In case you are too busy to add exercising into your daily routine, you can try walking as much as possible. Besides, losing weight quickly can make you look older as it makes your neck and facial skin look saggy. Therefore, it is advised to take things in moderation.
Doing yoga is a great exercise for older people. This is a way of taking care of both your mind and body, reducing stress and making you feel more grateful for your life. Yoga is also a great exercise to heal injuries, to work out , and to promote a healthy lifestyle that will make you look more youthful.
8. Eat Healthy Foods
Another one on the list of the best tips on how to look young that I would like to reveal in this entire article today and want you and my other readers to learn and consider making use of this tip if you are trying to get a youthful look. In fact, there is no magical food that can take 10 years off your look, but there are some healthy foods you should eat regularly in order to help you look more youthful. They are:
Ÿ Broccoli: This vegetable includes vitamin C and other important properties that help maintain your strong liver.
Ÿ Berries: The antioxidants containing in any kinds of berry can keep your skin young and fresh.
Ÿ Oranges: The amount of vitamin C in this healthy fruit is ensured to make you younger.
Ÿ Sweet potatoes: They contain lycopene that is great for your hair as well as complexion.
Ÿ Low-fat yogurt: It is good for your skin and gives you the calcium that you need to get healthy teeth.
Ÿ Carrots: They are a fantastic food for your eyes and skin.
Ÿ Bell peppers: Brightly colored bell peppers give you antioxidants to beat illness and protect your skin from unwanted damage.
Ÿ Beets: Beets contain antioxidants and floats that help prevent wrinkles and help eyesight
Ÿ Leafy greens: They are packed with vitamin A that is good for soft skin.
Ÿ Grapes: Sorbitol that gives grapes their sweetness is a substance that helps it absorb and keep moisture.
Ÿ Oily fish: Salmon and other oily fish are rich in DMAE that boosts muscle tone and is one of the important ingredients in good skin creams. Eating them twice a week also gives you the same benefits.
9. Get Lots Of Sleep
You had better aim to be well rested as regularly as possible. This is because at this time, your body will start showing more signs of tiredness, especially in the place around your eyes. You may find that you require less sleep than you did in the past and this is also fine. Try to stick to magic sleep number for you whether it is eight hours or even less.
In fact, this is among the most important tips on how to look young, so people should try to get enough sleep to look younger on the next day. Continue reading this entire article to discover other tips on how to look young!
10. Reduce Stress
The fact is that a stressful life will make you more tired and a bit older. You should try to reduce stress as much as possible and find new ways of dealing with your life's demands. Take at least 60 minutes a day to do something to relax yourself. Moreover, you can try getting a massage that can make you feel relaxed and ease up some of the stress and tension. This also encourages the secretion of anabolic hormones that help you reduce signs of aging effectively.
This is also a great one on the list of the best tips on how to look young that people should not look down but learn and consider relaxing accordingly as soon as possible.
11. Do Not Smoke And Consume Regular Alcohol
In case you are a smoker, you should quit smoking as soon as possible. It is considered as one of the worst habits if you are trying to look younger. Smoking makes your lips thinner, your hair and nails discolored your skin duller and dryer. Additionally, quitting will make you healthier and even reduce the risk of getting a serious disease later.
Alcohol can cause premature aging and some diseases in the future. It can also dehydrate you that will make your skin look dryer and create puffiness around the eyes and that will not create a young effect.
12. Have A Positive Attitude
This is the last but very important out of the best tips on how to look young that I would like to reveal in this entire article and want you and my other readers to follow if they are trying to get a youthful look. You should add more laughter to your life. You know that happiness and laughter are important elements of a good life. Surrounded by humorous friends with funny stories will keep you young. Besides, you should be positive and avoid jealousy or any other feelings that make you turn into an old person. Be proud of your age and keep positive about the way on how you look, and other people will see your appearance in more positive light.
Another thing that I want you and my other readers to do after reading this entire article about the best tips on how to look young is to spend time reading another article, which introduces 20 tips to help you stay young and healthy longer- the How To Stay Young And Healthy Longer – Top 20 Tips Revealed article. This is actually an interesting article that reveals the best tips that people can make use with ease and without worrying about unwanted effects. These tips have already supported a lot of people in the world effectively in staying young and healthy and dealing with some heath issues without leading to any harmful effect, so readers of VKool.com should read this recommended article and follow at least one of these tips for good.
This is the list of 12 best and most common tips on how to look young that everyone who wants to know the ways to take some years off their face should read and remember for good. In fact, these tips have been proven very effectively and also easily to follow at home so many people love them. These tips are actually proven by science, so you should not worry when following them easily at home.
After reading this list of tips on how to look young, if you feel that this list is very good for your current condition and can also help other older people you know who are trying to get a younger look, you should share this list with them and then encourage them to follow these tips to their daily routine. Finally, as an author of VKool, I also want to know your opinion, so do not forget to leave your comments below, I will reply you as soon as possible.
Related articles about tips to help you look younger than your actual age that you should read and follow for good:
10 Natural Home Remedies To Look Younger Than Your Age
How To Make Your Hands Look Younger Naturally: 7 Powerful Tips 
How To Get Younger Looking Hands Overnight Naturally
How To Feel Younger And Have More Energy – 20 Ways
Best Clothes For Older Women- 12 Tips 
Want More Content Like This In Your Inbox?
Join The Discussion