Bedroom for a teenage girl is not only a place to sleep and comfort after full day of learning, but it also is a place where she does everything in her life such as learning, playing or making friends. In order to help parents and their daughters have a dream bedroom, Vkool.com has completed an article about the best teenage girl bedroom ideas for you to refer to. In this informative writing, you will learn a lot of ideas about bedroom arrangement and decoration. I am sure that the writing will please you because it includes the different and precious information you cannot learn anywhere else. You may see these ideas are the valuable suggestions or the perfect girl bedroom ideas you may think of and try to plan when you design the bedroom for teenage girls.
Top 8 Best Teenage Girl Bedroom Ideas Are Evaluated
1. Interests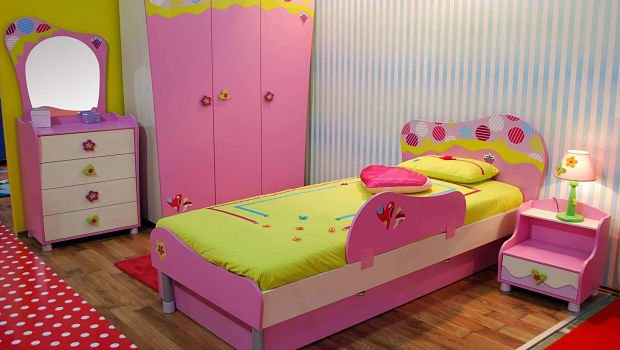 Concerning to the bedroom for teenager, we may think of a cute, creative, and the naughty room. Actually, girl bedroom is not only the sleeping place, but it is also a place to study, play, and make friends with the other people. It is also a location that a teenage girl stores the important elements such as the letter, toys, or gifts. When building the bedroom for teenage girls, you must think about the interests or favorite things of that girl. Not all the girls are girly, so depending on the character, decorating bedroom must be the crucial part of bedroom design. What colors that the girl like? Using the favorite colors is one of the best teenage girl bedroom ideas you should think about. If the bedroom is not large, you should try to use 2 colors only such as red and white. It you use too many colors in a small room, it will be in disorder. It is so lucky if you have a large bedroom, taking the bright or dark color is suggested.

There are some ideas of color that girls may choose as the following:
Red: This color will overpower a small room if you use it mixed with the white. Actually, this is a warm color and you may take advantage to use it for a warm environment for anyone who enters your room.
Blue: Blue is always a cool and favorite color of many girls. It is one of the perfect choices for a bedroom because you will feel relaxed after a day busy in school. However, blue may make you cold in the winter.
Yellow: Yellow is a symbol of happiness, energy, and brightness. So it is a nice color for any room, in particular, for teenage bedroom.
Green: Like blue, green is fresh and relaxed. If you like the trees or the cool color, green is one of the best options for you to paint the bedroom.
Purple: This color is a luxury color and it is a symbol of royalty. Normally, whoever likes this color will be a peaceful person. For cute teenage girls, who are romantic and calm, this color is the most favorite colors for them.
Pink: It is a warm, calm, and very girly color that many girls choose this to paint their bedroom. Do you like hot pink or light pink? Try it now and I am sure that you will love the bedroom much more.
The bedroom for girl should reflect her own tastes and the hobbies. Therefore, using her favored color is the best selection for you. She should paint the room by herself to get the meaning when living there. Resting on her interest, she may hang bat, rabbits or other nice animal toys on the wall. The girl may use corkboards, whiteboards, or chalkboards to beautify her bedroom. I am sure that girly teenagers have lots of pretty ideas and they will have their own bedroom with their imagination.
Learn more: Amazing Useful Home Decoration Tips For A warm And Beautiful House And Garden
2. Bed
Bedroom, of course, is a place to sleep. For teenage girls, they always dream of a beautiful and peaceful for easy sleeping at night. Actually, they love fun and bedroom is a place they may create many things they like. In reality, with the funny and intelligent head, she may think of the pretty ways to decorate the blankets and pillows, which will be more attractive and comfortable to use. Decorating pillows and blanket will make her bedroom look special and typical and it is one of the best girl bedroom ideas that you may try to use. To have more ideas for your bed, you may go around and get some kinds of bits and pieces to do over your pillows and blankets. You may make your bed cooler with the beautiful theme you get in the stores. If you want to have a dream bed, try to decorate and personalize it by your own ways. That is your bedroom so you have the right to do anything with it. For instance, you may add some posters, small items, funny elements into your pillows and blankets, I am sure that you will get a lovely bed as in your dream.
For an artistic bedroom, you may add some bohemian styles for your bedroom. It means that you may follow your style for your perfect bedroom.
Hanging bed is also one of the different girl bedroom ideas that can bring the contentment and joyfulness. You will see a youthful and vibrant environment in from the small armchair to the bookcase.
Learn more: 15 Bedwetting Solutions For Toddlers Parents Should Know
3. Furniture 
Along with a bed in a bedroom, teenage girls need more furniture. Certainly, before buying any furniture, you should ask the girl about what she is interested in. She is a teenager, so she needs a chair, table, and lamp to study. Additionally, she needs to have a bookshelf for her learning. A girl must have a mirror. If you have conditions and the girl likes, you should place a small sofa in the room for comfort. Place necessary furniture while the painting is dry. Remember that do not set too many furniture in a small bedroom. Think of the effectiveness of the furniture before purchasing it for saving money. With the favorite things beside the bed, you may decorate them by your ways.
It is not a beautiful bedroom anymore when you have clutter in every place in your room. Make sure that you have a storage place where you put the unused things. School girls must have a bookshelf as I concerned above, a wardrobe to store the clothes, and a necessary thing to store the favorite toys or items. By using the storage space, you will feel comfortable whenever go back your bedroom. Arrange your bedroom orderly, your sleeping will come easily and you will not feel tired as it is dirty. Among the best girl bedroom ideas, using the storage cannot be ignored as it is necessary for the girl's life.
4. Older Girl Bedroom 
For teenage girls, bedroom is a place that they present their characters, as well as the plentiful imaginations there. There are many ways to decorate and organize their bedroom more perfectly, relying your own ideas and your favorite things but I want to introduce some referral ideas as the following:
If you, an older girly teen, the modern bedroom is a good option you may select. The bedroom will include the bright color, bold and large headboard.
The twin beds may be effective in a room to save the space. Each girl will have her own bed and they may talk and play each other in a room without the distance and wasting their parent's money.
If you are going to build a bedroom for two children at different ages, you should use carriage toddler and crib.
You may have great wallpaper by using the fresh and white gray color. It will reflect the personal character or mature.
For the adolescence girl, a bedroom with dot or small circle on the wall will be a one of the best girl bedroom ideas for you think about. You can choose rug polka dots to emphasize the rom.
5. Girly Bedroom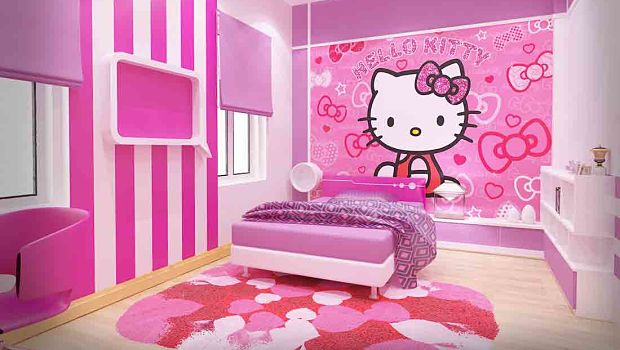 Girls who are girly will love pink, cool, and romantic color. In addition, they like the peaceful space and they do not like noisy environment. You the parents may get some ideas as below:
Some teenage girls still like the Barbie or little Kitty, so you may have some kitties in a room to make the bedroom cute and pretty as the girl who lives there. If your child is a fan of Hello Kitty, definitely, you should use design the bedroom with Hello Kitty to make her exited and the room will be very lovely with pink color.
For preteen girls, you may have some touches like pallet bed, the needlework or artwork in the room. Also, they may like the pink Barbie in the room to make the room nicer and more beautiful.
Actually, pink color is the super color for teenage girls when they want to have a cute bedroom. But the hot-pink will not be a perfect choice of all girls but the light pink is the most favorite. Depending on your hobbies, this is just a suggestion for your colorful bedroom.
6. Personal Girl Bedroom 
If the girl is a naughty and has personality, her bedroom should be different and unique. The following ideas are the girl bedroom ideas that many parents apply for their children:
The naughty draw in the room will reveal her personality.
If the girl likes rock music, she should symbolize a guitar shape on the pillow. Also, you can add a chandelier on the ceiling to bright the space of the room
Your bedroom will be more liberal if you combine the colors properly, a black wall will be a great idea for decorating the girl bedroom.
You can choose a hanging chair for the bedroom to emphasize the idea for relaxation. Be sure that you will use the bright ceiling to imitate the youth of the room.
Funny things will be one of the great girl bedroom ideas when they totally add the funny themes, flowers, or dots in the furniture.
7. Nature-based Girl Bedroom 
Any teenage girl who loves nature, you should convey the following ideas to construct a wonderful bedroom for your daughter. The girl may also contribute to this process as they can have lots of ideas for her future bedroom.
You can combine the orange and turquoise to have a bright and cool room to have breath of the sea.
For any girl who loves water, you should have the cool color or the seaside accents. She may hang the ocean picture in the room or get something regarding to the sea for her.
Outside the bedroom, near the window, trees should be planted there. This is a good way to make your girls love nature more and more. This is also a good way among the nice girl bedroom ideas many people are applying. It is really effective when you have natural green to see in the morning.
8. General Girl Bedroom
Each girl has her own hobbies, interests, and the wish to create a bedroom for her. Here are some general solutions for teenage girl bedroom:
A cool simple white room is also a great choice for teenage girls
Bedroom for teenage girls should include the bright and cheerful colors because they are studying in school and they are not old enough to think about the bigger problem. They just enjoy their life and this is one of the most effective ways to grow your child.
You may have a glamour bedroom by combining the bold accessories together such as using sticker, green walls, and furniture with mirror. By the way, you will make your bedroom look younger
You should use the bright color to make your bedroom whiter and larger.
Refer to the space of the bedroom; you will have your own girl bedroom ideas that are the most suitable to your daughter. Actually, if you have a small bedroom, but you will have a great bedroom as the arrangement is proper to the small square.
To save your space, you may take advantage of the area by using the versatile, interior compact. For instance, you may use a bed that you can glove or fold it easily, and a wardrobe may have spaces for bags, shoes, etc. The bookshelf will be decorated with gentle color such as using idols or individual photos to make the room more vivid.
You should choose the light and gentle color to prevent a tangled space. You can select cream color, pale blue, rosy, yellow, etc. it will make the room more viable.
To see all tips and tricks about caring children, go to our main Relationship page.
After reading my writing of 8 best teenage girl bedroom ideas, I hope that you have already got the useful solution for a beautiful bedroom. Applying those tips, you will have a pretty bedroom with satisfaction. If you have any question, please leave it below and I will respond to you.
Want More Content Like This In Your Inbox?
Join The Discussion