New drivers acquiring their license are often eager to grab the keys and hit the road for their initial legal cruise. The majority of them are teenagers who have minimal experience in driving car. Obviously, driving a car is thrill and interesting especially for newbies. In this article, we have put together a list of 19 easy and basic car driving tips for beginners for your reference. Read on these tips to start driving like a pro from now!
19 Easy And Basic Car Driving Tips For Beginners
1. Get A License
Getting a driver's license is a great and important step in a person's life. This is totally true no matter how old the new driver is. Once earned, the ability to drive is usually seen as a formal sign of adulthood by a lot of young drivers. In order to earn and maintain an excellent driving record, a driver must understand many factors both before and after obtaining a license. The rule to get ones driver's license might differ from one state to another. Usually, getting the license includes a written test and / or a driving test. Additionally, certain kinds of paperwork will be required to prove the attendant's identity. For instance, a teen, might start as early as age 14 in some states and 16 in others.

For those people who are under 18, 50 states all have several forms of graduated licensing system in place. This system requires people to go through a stage with the limited license, usually called an intermediate or a probationary license, before obtaining a regular license. These licenses restrict how and when a teen could drive as well as how many passengers they can have in their car, if any. Actually, this kind of system is designed to permit the driver to achieve the skills and necessary experience to safely drive the vehicle.
If you are afraid of driving for any reason, then you should read on the unique tips to overcome fear of driving for good in our website instantly before getting your license.
2. Prepare Before Starting
Some drivers are in such a hurry that putting on a seat belt and changing the different settings on the car do not occur until they are driving down the street. Once seated in the car, it is necessary for you to pay attention to all the equipments in the car. Count the available seat belts in the car, and do not allow more people in the car than these belts as it is illegal to drive or ride in a car without seat belts fastened. The next step you should do is to put on the seatbelt, modify the mirrors, seats, steering wheel tilt, and other personalized settings in the car.
3. Rules Of The Road

This is extremely important for any driver who wants to operate their car safely on the road. Once the rules are recognized, followed, and understood appropriately, a new driver will get to know how to drive their car properly whilst on surface roads and streets, highways, freeways, at intersections, and special crossings. Also, they can know what and how they should do during certain traffic hazard. The rules of the roads get involved in knowing and following the speed limits that might change based on the road and the weather conditions. They might also modify in the presence of the pedestrians, people in school zones, or people riding bicycle. What is more, drivers need to understand the pedestrian and traffic signs, and pavement markings. As normal, pavement markings are the lines on the street or road which point out traffic lanes and might indicate whether a driver might cross into another lane or if she / he must stay in a specific one. A new driver must also understand hand signals that indicate whether a car is going to stop or turn. So, take the time to memorize what the symbols mean and how they could affect everyday driving.
To drive smartly, you can check out these methods on how to improve brain functions naturally here.
4. Volume Level
Teenagers tend to listen to music too loudly than other people do, especially when driving. This is totally not good because it may lead to dangerous situations. A car horn is a device that warns other drivers of imminent danger or alerts them to move out of the way. If the volume is too high, it can drown out the horns or sirens. As a result, the driver might be unaware of that situation.
Check out: tips to relax with music properly
5. Driving Safety 
When driving a car, a driving beginner has to make safety a priority at all times. By this way, he or she will reduce the risk of causing or being involved in certain accident. As a driver could just control how he / she operates and drives the car, they should drive defensively. This is a proper method of driving in which the driver projects and avoids potential accidents caused by other drivers. The important part of driving safety is staying alert and attentive to the actions of nearby cars. In reality, the best manner to master this kind of driving technique is taking a formal course in defensive driving. It is critical for you to obey the speed limits and adjust your speed according to weather conditions like fog, snow, rain. Doing this will help you lessen the risk of car accidents. Even, appropriate usage of car signals while changing the lanes can also prevent potential accidents from happening.
Especially, you absolutely should not drive drowsy as this will increase your risk of getting in an accident. To eliminate your sleepiness once and for all, check out the free tips in our website now.
If you want to know other basic principles for driving a car, you should read the Teach Your Teen to Drive book.
6. Maintain The Vehicle
When it comes to fundamental driving tips for beginners, maintenance the vehicle is also necessary to be counted on. How a person operates and drives a car is so crucial in terms of safety. However, equally important is the way that he / she maintains that vehicle. Good maintenance practices will decrease the opportunities of car accidents. Additionally, it is so great for the environment and could save the driver money when it comes to fueling the car and avoiding costly repairs. If you maintain the car routinely, it will be better on all of these issues. For instance, drivers should check four tires on the car in order to make sure that they are inflated appropriately. For checking the air pressure, you can use a tire gauge. Once the tires are not appropriately filled, you, as a driver, will run the risk of getting a flat whilst on the road. Moreover, the tires which are not exactly inflated wear out more quickly, and will require early replacing than the others. Also, they cause a vehicle to consume much more gas. Another critical part of car maintenance is to change the motor oil and air filters. The producer of the car will name the best kind of oil to use. You also need to check brake fluid, transmission, and power steering coolant to maintain your car effectively. Cleaning your vehicle in terms of the mirrors and lights, windows, is also necessary and develops the safety of that car.
When you cannot perform maintenance on your vehicle, a car mechanic should be hired. A qualified mechanic is also essential when brakes, spark plugs, and timing belt need replacing.
7. Be Extra Careful In Bad Weather

If you are driving though heavy rain, fog, and a snow storm or on icy roads, just be extra cautious. Take all of the following tips presented here and make use of them:
Drive below the speed limit if essential

Maintain extra space between your car and the car ahead

Especially beware of around curves
In case you are driving through such weather conditions you do not know well, if possible, consider delegating driving tasks to someone does. If the weather worsens, just find a safe place to wait out the heavy rain or storm.
If you are experiencing bad visibility, either from snow or fog, and you end up off the side of the side of the road, both intentionally and unintentionally, just turn off the lights. Drivers who cannot see the road will be looking for other cars to follow along the way. When they see your car's lights, they will drive forward you and might not realize you are not moving in time in order to avoid collision.
Discover ways to fight off tiredness easily to help you increase your carefulness to the maximum level.
8. Do Not Follow Too Closely
One of the most basic driving tips for beginners that you must know is not to follow the ahead car too closely. In order to drive safely, you had better keep a safe distance between yourself and the car ahead. You will need enough time to react if that car makes a sudden stop or turn. It could be too hard to calculate the recommended distances whilst driving and the precise distance would have to be modified for speed. So, you can follow the "three-second rule".
This rule is quite simple. To understand this rule, you can find a stationary object on the side of the road. When the car ahead of you passes it, begin counting seconds. At least three seconds should pass before your car passes the same object. When you have some driving experience in keeping this minimum distance, you will have an instinct for it and know how close distance you should maintain without having to count. Nevertheless, experienced drivers should count off the three-second rule now to make sure they are pretty good at it.
The double recommended time – about six seconds will be good in inclement weather or at night.
If you want to know other basic principles for driving a car, you should read the Teach Your Teen to Drive book.
9. Pay High Attention To Poles And Trees While Driving Or Turning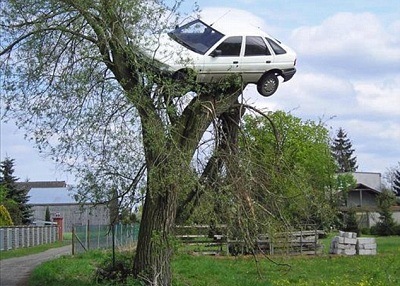 On the street you are driving may have many telephone poles, electric poles and trees. So, be careful when driving fast or turning left or right on a 900 turn.
10. Ignore Compulsive Bullies Or Honkers
When driving drive, practice driving your car on the block. Ignore some bullies or honkers to focus on the drive ahead. In fact, an accident can happen anytime if you lose your concentration on driving.
11. Practice The Right Driving Posture
Next to driving tips for beginners, practice the right driving posture. Look at the following picture to sit inside your car correctly and comfortably.
12. View The Wing Mirrors While Driving And Reversing
To avoid accidents, remember to view the wing mirrors carefully before going backwards and turning left or right. If you are in doubt, lower a car window, pop your head out to view the road.
13. Driving On Sub-Urban Streets 
When driving on sub-urban streets, remember to practice the following basic driving tips for beginners:
– Drive slowly and open you eyes wide to see pedestrians crossing the road near parked cars
– Take care in some areas where kids are playing such as playgrounds or schools
–  Turn on the alert lights and practice limited speed on certain streets
14. Driving At Night
When driving at night, practice some basic driving tips for beginners as follows:
– Turn the car headlights to have a good visibility while drive
– Slow down the speed, especially when reaching other vehicle or turning
15. Driving On Main Roads
Here are some driving rules when driving on main roads:
–  Increase the following distance with vehicles in front of your car
–  Practice speed limit on certain main roads
– Approach all intersections carefully
– Give warnings if necessary
If you want to know other basic principles for driving a car, you should read the Teach Your Teen to Drive book.
16. Driving On Country Roads 
Keep in mind the following tips while driving on country roads:
– Look out for livestock and wildlife on the road or near water crossings, especially at night
– Don't stop or park near a floodway, bridge or narrow section of the road
Read on: List Of Most Beautiful Bridges In The World
17. Driving On Dirt Roads
Don't forget to practice some driving tips for beginners below when driving on a dirt road:
– Slow down the speed, adjust your driving methods to wet conditions that make roads become boggy, slippery and muddy
– Increase the following distance with vehicles in front of your car
– Be careful in some other dirty dry conditions such as dust, conceal potholes and ruts
18. Driving On Mountain Roads
The following are some tips when driving on mountain roads:
– Adjust your speed when driving up and down
– Pay high attention to some areas that often have accidents
– Pay attention to warning signs and lights
Recommended: Holiday Travel Tips and Top 19 Most Beautiful Island Countries In The World
19. Driving On The City 
Remember to practice some basic driving tips for beginners below:
–  Watch out road signals such as pedestrian traffic, no entry signs, one way signs
–  Reduce speed in areas with high traffic
These 19 easy and basic car driving tips for beginners are designed to improve your capabilities and enhance driving skills. Making use all of them will allow you to drive safely. Sooner or later, you will be able to drive like a pro with ease.
Leave your comments at the end of this post of easy and basic car driving tips for beginners to let us know what you think. We will answer all as quickly as possible.
If you want to know other basic principles for driving a car, you should read the Teach Your Teen to Drive book.
Want More Content Like This In Your Inbox?
Join The Discussion